Five distinguished Macquarie University academics accepted into the ARC College of Experts
26 November 2019
Five researchers from Macquarie University have been accepted into the Australian Research Council (ARC) College of Experts, ensuring Macquarie University will have a continuing role in shaping research excellence and innovation in Australia.
Acceptance into the College means that these researchers will have a role in assessing grant applications, make funding recommendations, and provide strategic advice to the ARC in order to achieve a thorough and fair research funding process in Australia. Members are experts of international standing drawn from the Australian research community: from higher education, industry and public sector research organisations.
The new members join five other Macquarie academics already in the College.
"The acceptance of these five researchers into the College of Experts demonstrates the high calibre of academics at Macquarie University," says Professor Sakkie Pretorius, Deputy Vice-Chancellor (Research).
"These experts will bring a rich and established knowledge of their respective fields to the College, expertise that has been cultured by the longstanding research excellence of Macquarie's academic community."
The new members of the ARC College of Experts from Macquarie are:
Professor David Coutts, Associate Dean Research for the Faculty of Science and Engineering and Professor in the Department of Physics and Astronomy
Professor Coutts is an expert in optical and laser physics including laser device development, nonlinear frequency conversion and applications of optics and lasers.
Professor Stephen Crain, Distinguished Professor of Linguistics and Director of the ARC Centre of Excellence in Cognition and its Disorders
Professor Crain researches in the areas of the psychology of language: namely child language acquisition, adult language processing, and neurolinguistics.
Professor Paul Haynes, Professor in the Department of Molecular Sciences and Director of the ARC Training Centre for Molecular Technologies in the Food Industry
Professor Haynes' research interests are in quantitative proteomics analysis across a range of biological systems, mainly focusing on plant and environmental proteomics.
Professor Annabelle McIver, Professor in the Department of Computing
Professor McIver uses mathematics to analyse security flaws in computer systems.
Associate Professor Kristian Ruming, Associate Professor in the Department of Geography and Planning
Associate Professor Ruming is an urban and economic geographer whose research interests centre on issues of housing and urban planning.
The full list of ARC College of Experts 2020 is available on the ARC website.
Filed under: Featured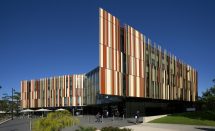 Media contact
02 9850 1055
View by category