Six Macquarie University scientists join Nobel laureates as world's most highly cited researchers
21 November 2019
Six researchers from Macquarie University have been named in the Web of Science's Highly Cited Researchers 2019 list, which recognises the most highly regarded scientists and social scientists when it comes to research influence among their peers.
This year's list identifies researchers – including 23 Nobel laureates – across 60 countries who produced multiple papers ranking in the top one per cent by citations for their field and year of publication.
Six Macquarie University staff are named on this year's list, cementing the University's place among Australia's most respected research institutions.
Professor Mark Connor was named in the Pharmacology and Toxicology category, for his highly cited research on analgesics and other psychoactive drugs, including cannabinoids and opioids.
Acclaimed melanoma researcher Professor Richard Kefford was among the most highly cited in the Clinical Medicine category. Professor Kefford has contributed to the mapping and characterisation of melanoma susceptibility genes and the development of international guidelines on genetic testing of those at high risk.
Professor Colin Prentice, honorary chair of ecology and evolution, is recognised in the Environment and Ecology category. Professor Prentice's work centres on understanding how plants react to changes in climate and other aspects of the physical environment.
Eminent plant ecologist Distinguished Professor Ian Wright is named in the Plant and Animal Science category. Professor Wright was made a Fellow of the Australian Academy of Science earlier this year and well known for using concepts from economics to understand plant evolution and plant ecological strategies.
Anita Ho-Baillie, Associate Professor in the School of Engineering, and Professor Hendrik Poorter from the Department of Biological Sciences, were highly cited in the Cross Field category.
Deputy Vice-Chancellor (Research) Professor Sakkie Pretorius says the impressive number of Macquarie University researchers appearing on the Highly Cited Researchers list each year is reflective of the University's global impact in the sector.
"Macquarie University continues to produce research that is advancing the frontiers of knowledge worldwide. I congratulate these six researchers for this well-deserved recognition of their world-leading work, which is having world-changing impact," he says.
Filed under: Featured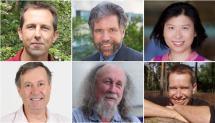 Media contact
02 9850 1055
View by category