$2.3 million awarded to Macquarie's rising research stars
15 November 2019
Six of Macquarie University's most promising Early Career Researchers have had projects funded in the latest round of the Australian Research Council's Discovery Early Career Researcher Awards (DECRA), announced today.
A total of $2,327,531 was awarded by the ARC for research across Philosophy, Computing, Molecular and Biological Sciences, Mathematics and Statistics.
Deputy Vice-Chancellor (Research), Professor Sakkie Pretorius, congratulated the University's Early Career Researchers on securing grants for their innovative research.
"It is pleasing to see six of Macquarie University's up-and-coming researchers being awarded funding for their impactful and impressive projects," said Professor Pretorius.
"The grants will pave the way for researchers at the forefront of their fields to build high-impact careers as research and innovation leaders of the future."
Dr Katrina Hutchison from the Department of Philosophy has received $426,023 to investigate how small, cumulative gender biases affect female surgeons' career paths and progression. The project will provide new ways of understanding workplace gender discrimination and discover invisible barriers to women's career progression in surgery.
Dr Yee Lian Chew was awarded $387,551 to lead a project in the Department of Biological Sciences looking at how neural networks change and influence behaviour. The research aims to uncover new insights on neural circuit plasticity, which will advance discovery in neuroscience and robotics.
The dynamics of slender fibres suspended in viscous fluids has applications to healthcare and fertility, through understanding how sperm or bacteria swim, and in industry for the creation of cheap lightweight materials. A project by Dr Lyndon Koens from the Department of Mathematics and Statistics will develop models for these complex suspensions with a grant of $312,566.
Dr Wenjie Ruan from the Department of Computing was awarded $418,998 for a project that aims to develop robust and interpretable deep learning models to support home-based health monitoring and care for the elderly.
A grant of $355,325 will support research into how bacteria steal iron from their hosts, a project led by Dr Francesca Short from the Department of Molecular Sciences. The project will develop a new genomics-based technology for defining bacterial gene regulation networks, then apply this to understand the networks controlling a family of iron-stealing molecules called siderophores.
Dr Jia Wu from the Department of Computing received $427,068 to develop an early prediction system to forecast possible outbreaks of malicious messages in social networks, before they have a chance to propagate. The findings have applications in preventing cyberfraud, online rumour-mongering, and financial loss by assisting Australia's government and industry infrastructure in fighting malicious online messages.
Filed under: Featured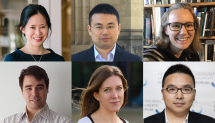 Media contact
02 9850 1055
View by category