Dr Martin Parkinson AC PSM appointed new Chancellor of Macquarie University
30 October 2019
Former Secretary of the Department of Prime Minister and Cabinet, Dr Martin Parkinson AC PSM, has been announced as the seventh Chancellor of Macquarie University.
Dr Parkinson replaces the Hon. Michael Egan AO, former Treasurer of New South Wales. With more than 11 years in service to Macquarie as Chancellor, and 13 years involvement with Macquarie University's Council, Mr Egan is the University's longest serving Chancellor.
Dr Parkinson was elected to the position of Chancellor at a meeting of Macquarie University Council on 24 October. Dr Parkinson has been one of the nation's most senior public servants for 30 years. He retired from his role as Secretary of the Department of Prime Minister and Cabinet on 30 August 2019.
"It is a tremendous honour to become the Chancellor of any university, but to follow on the heels of such a remarkable individual as the outgoing Chancellor, Michael Egan, and at such an innovative and creative institution as Macquarie, is doubly humbling. He leaves us with a great legacy of wise decisions that have helped build a track record of, and a foundation for, continued success, one on which the Council and I will continue to build," Dr Parkinson said.
Mr Egan welcomed Dr Parkinson to Macquarie, noting the decision of University Council was unanimous.
The University's Vice-Chancellor, Professor S Bruce Dowton, said he is looking forward to working with Dr Parkinson with a great sense of anticipation.
"The combination of his warm engaging optimistic style coupled with his long professional experience as one of Australia's most seasoned national leaders, make his appointment to this very important role an exceptional one," Professor Dowton said.
"Dr Parkinson has a keen interest in the role Macquarie University has played in linking the wider business and professional communities locally, in Australia and around the world. This builds on the strong industry partnerships Macquarie has fostered as an integral component of the success across the University and the rapid growth of the Macquarie Park Innovation District as one of the Southern Hemisphere's largest business innovation districts," added Professor Dowton.
"He brings a deep understanding of the role Australia can play in a rapidly changing world and has a strong interest in how Macquarie, along with all universities, has a key responsibility in securing a bright future for the nation.
"Most importantly, he understands the transformative power that a university education can provide to young Australians and international students alike, as well as to those who engage with the University later in life," said Professor Dowton.
Professor Dowton also paid tribute to Mr Egan's ongoing dedication and commitment to Macquarie University during a period of great change.
On behalf of Macquarie University Council, Deputy Chancellor, Ms Louise Mason, thanked Mr Egan for the many years of outstanding service he has given to Macquarie University, and for his leadership during this time.
Filed under: Featured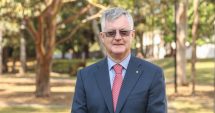 Media contact
02 9850 1055
View by category