ARC Future Fellowships recognise outstanding Macquarie research
17 October 2019
Research in quantum computing, birdsong musicology, star formation and computer image recognition are among the Macquarie University projects awarded $5.4 million funding in the latest round of Australian Research Council (ARC) Future Fellowships.
Six new ARC Future Fellows across Educational Studies, Physics and Astronomy, Media, Music, Communication and Cultural Studies, and Clinical Medicine were announced today by the Minister for Education, the Hon. Dan Tehan.
"The Morrison Government is investing in the future leaders of Australian research to tackle challenges our country faces today," Mr Tehan said.
"We are supporting research in areas of national importance which will result in economic, environmental, social and health benefits. Our Government is also fostering greater collaboration between academia and industry to improve the connection between research and real-world results.
"I congratulate all of the 2019 Fellows announced today as they embark on their research."
Deputy Vice-Chancellor (Research), Professor Sakkie Pretorius, congratulated the academics on their success.
"Each of our Future Fellows are world-leading researchers and their research projects will have world-changing impact. Given the fierce competition for ARC fellowships, this is a great achievement and Macquarie is very proud that six of our candidates were successful in the current round," said Professor Pretorius.
Associate Professor Antonio Di Ieva from the Department of Clinical Medicine, head of the Computational NeuroSurgery Laboratory, was awarded $1,015,000 to investigate how visual cognitive processes can be replicated in computers to create a brain-like ability to detect vital details in complex images. The technology will have applications for health imaging, including brain tumour detection and classification, satellite imaging, driverless cars, research and national security, enabling computers to detect relevant details in complex scenes and reducing risks in decision-making.
Funding of $986,425 went to Dr Daniel Burgarth from the Department of Physics and Astronomy for a project that will help build efficient near-term quantum computers, by developing more accurate physical models and control techniques for their hardware.
Professor Liz Pellicano from the Department of Educational Studies received $978,000 to investigate ways to transform autism science so that it more accurately reflects everyday autistic life. Bridging the gap between lab and life and opening up research to greater involvement of autistic people themselves, her work aims to generate scientific discoveries that bring real benefits to autistic people.
A project led by Dr Tom Murray from the Department of Media, Music, Communication and Cultural Studies received $879,811 to develop a documentary film in collaboration with Yolngu communities. It will change understandings of Australian pre-colonial isolation by demonstrating Indigenous Australia's connection to South-East Asian cultural and trading networks.
Dr Hollis Taylor from the Department of Media, Music, Communication and Cultural Studies was awarded $802,750 for a project that promises to transform our understanding of musicality across species by mapping pied butcherbirds' cultural transmission and variation of birdsong at field sites in and around Alice Springs. The research will ask how these songbirds can revolutionise the way we think about birdsong, human uniqueness, and the core values of music. Her research outputs include a museum exhibit, a radio documentary, a double CD set, and birdsong-based compositions and concerts.
Seeking to answer the question of how stars form is Dr Shari Breen from the Department of Physics and Astronomy, who received $748,282 to conduct a new astronomical survey aimed at developing a comprehensive understanding of star formation, and an unparalleled map of the dense gas structure of our Galaxy. This will provide crucial insights needed to interpret future sensitive, high-resolution surveys with next generation, globe-spanning telescopes in which Australia is a key partner.
Filed under: Featured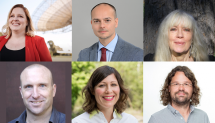 Media contact
02 9850 1055
View by category