Spring graduation season commences, honorary doctorates awarded
16 September 2019
Macquarie University's spring graduation series commenced this week, with over 7500 guests expected on campus in the coming weeks to celebrate the achievements of more than 2500 graduates receiving their degrees, diplomas and certificates from Macquarie University.
This season there are two medalists and 35 individuals who will be receiving Macquarie University Academic Excellence Awards and Vice-Chancellor's Commendations. Of the degrees conferred 149 will go to Doctoral (PhD) candidates.
Graduates will be joined by Australian and international esteemed community leaders who will receive honorary doctorates acknowledging their exceptional contributions to society in their fields.
Chief Newsreader for Channel 9 News, Peter Overton will be receiving an honorary doctorate in a ceremony this season.
Mr Overton was awarded the honorary doctorate for his outstanding work in broadcast journalism.
In a career spanning more than three decades, Mr Overton has been an industry leader presenting groundbreaking news coverage and special pieces to the public. He is also heavily involved in the community as a patron and ambassador for many Australian charities.
"I feel humbled about being awarded an honorary doctorate by Macquarie University because it is a recognition you don't expect as you embark on your career. It is also a recognition of the many charities that I have and continue to support over nearly 30 years. I deeply valued my time at Macquarie on many levels, including the friends that I made while studying, who I still hold dear today," says Mr Overton.
Also receiving an honorary doctorate for her work in the education sector is Vicki Waters, Managing Director of EducateCo. Ms Waters is known and respected as an independent school leader and speaker. For the past 25 years, Ms Waters has transformed school communities. In the last 10 years she has led a national discourse on the need for world-class education and opportunities for girls while leading as the Principal of Pymble Ladies' College in Sydney.
"It is an absolute privilege and honour to be awarded an honorary doctorate of Science by Macquarie University at a time when opportunities for girls and women in this field are supported and nurtured through innovative educational practices," says Ms Waters.
Honorary degrees are awarded in recognition of exceptional achievement or contribution in relation to a particular field or discipline, to the University or society. The recipients of honorary awards represent a balanced group that demonstrates the breadth of the University's areas of interest and expertise.
Filed under: Featured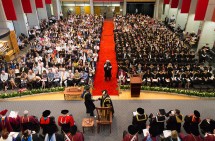 Media contact
02 9850 1055
View by category