Macquarie Business School's Professor James Guthrie receives Order of Australia
11 June 2019
Professor James Guthrie from Macquarie University's Macquarie Business School has been honoured with an Order of Australia as part of the 2019 Queen's Birthday Honours list.
The prestigious honour was awarded to Professor Guthrie in recognition of his significant service to higher education in the field of accounting.
With a career in accounting education that spans more than 35 years, Professor Guthrie has held positions at various Australian and Italian universities as well as being the Head of Academic Relations at Chartered Accountants Australia and New Zealand from 2008 to 2017. He is a well established thought leader in the accounting professions internationally, including advising the OECD since 1998.
Professor Guthrie is the current co-editor of Accounting, Auditing and Accountability Journal (AAAJ), the highly ranked and peer-reviewed academic journal covering accounting theory and practice.
"I'm humbled by this award, however it's great recognition for the field of accounting. The 1990s saw countries around the world begin to embrace alternative concepts of accounting and I have dedicated my career to become a leading researcher in interdisciplinary accounting and supporting my fellow academics through AAAJ and the profession through my work with Chartered Accountants Australia and New Zealand."
Professor Guthrie has researched and published widely in the fields of public sector accounting, social and environmental accounting and intellectual capital, including the recent publication of the definitive work, The Routledge Companion to Intellectual Capital.
Macquarie Business School's Executive Dean, Professor Stephen Brammer congratulated Professor Guthrie on his outstanding contribution to his discipline and this well-deserved honour.
"I would like to offer my personal congratulations to James for this recognition of his contributions to accounting research, teaching, policy and practice over a long and esteemed career. James' world class research has had a profound impact on the accounting profession both internationally as well as in Australia. His research insights have contributed to our national policy, particularly in regards to public sector accounting and auditing as well as public-private partnerships.
Macquarie Business School is very proud to include James among the ranks of our academic leaders. His commitment to excellence has made him a passionate mentor to students and staff alike. It has been an honour to work with him."
Professor Guthrie held senior roles within the Macquarie Graduate School of Management in the mid-1990s, and returned to the Macquarie University in 2010 as a Distinguished Professor of Accounting within the Department of Accounting and Corporate Governance.
Filed under: Featured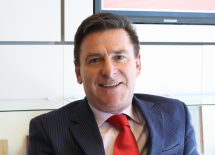 Media contact
02 9850 1055
View by category