New Macquarie StyleHub has the final word on written style
9 May 2019
Macquarie University and Biotext announce the impending launch of the Macquarie StyleHub (stylehub.edu.au), a comprehensive online platform designed for academics, students, and professional writers and editors, to promote clear and effective communication.
The interactive reference hub brings together a suite of resources relating to style, communication and accessibility standards, including a style manual and term banks for general and specialist written styles.
In partnership with Biotext, Macquarie researchers Emeritus Professor Pam Peters and Professor Jan-Louis Kruger have led the development of the platform. The project expands Macquarie's and Biotext's existing collaboration on the Australian Manual of Scientific Style, to create an all-encompassing style guide that will be useful for professional communicators in all fields.
"Macquarie StyleHub will be the first port of call for those nitty-gritty issues of language, and aims to demystify technical language in medicine, law and other areas," said Emeritus Professor Pam Peters.
"The launch of StyleHub opens a fresh chapter in Macquarie's long involvement in references on Australian language and style, in dictionary-making with the Macquarie Dictionary, and in contributions to the last three editions of the Australian Government Style Manual."
The Australian Style newsletter will be reinvigorated on Macquarie StyleHub, as a vehicle for exchanging research and observations on current language usage, reporting on language controversies and engaging readers in usage surveys.
Macquarie StyleHub will also support the multilingual online term banks (TermFinder™) developed by Macquarie linguistics staff to provide accessible information on specialised terminology for the general public, including terms in family law (LawTermFinder), and in cancer medicine and health care (HealthTermFinder).
Professor Jan-Louis Kruger, Head of the Department of Linguistics, is conducting a series of experimental studies in online readability, usability and accessibility, to provide evidence-based guidelines for accessible web development.
"Our collaboration with Macquarie University shares the vision of providing effective, audience-focused communication resources for anyone who wants to write, edit, design or publish," says Dr Richard Stanford, Biotext Managing Director.
"This partnership is a natural match, as both organisations want to develop evidence-based recommendations on style, language and terminology from rigorous research."
The Macquarie StyleHub website will go live in May 2019.
Filed under: Featured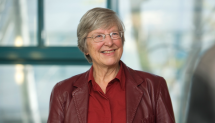 Media contact
02 9850 1055
View by category