Autumn graduation season begins, honorary doctorates awarded
18 April 2019
Macquarie University's autumn graduation series commenced this week, featuring the inaugural graduation for the Master of Disability Studies and several honorary doctorates being awarded.
The first 18 graduates from the Master of Disability Studies will receive their degrees, including two being presented the Macquarie University Award for Academic Excellence. The course is delivered by the Royal Institute of Deaf and Blind Children (RIDBC) Renwick Centre as part of Macquarie's partnership with the Institute.
With the roll-out of the NDIS, professionals in the area of sensory disability are in high demand, and the course equips graduates to work as qualified special educators in this field.
In total more than 5400 graduates will receive their degrees, diplomas and certificates over the graduation season, with more than 17,000 guests expected on campus in the coming weeks to celebrate their achievements. Of the degrees conferred, 128 will go to Doctoral (PhD) candidates.
Graduates will be joined by Australian and international esteemed community leaders who will receive honorary doctorates acknowledging their exceptional contributions to society in their fields.
Fiona Crosbie was awarded a Doctor of Letters (Honoris Causa) for her contribution to the legal profession. Ms Crosbie is a Macquarie law alumna and the first female Chairman of international law firm Allens in its near 100-year history.
Committed Macquarie volunteer and alumnus Noel Wagg received an honorary doctorate for his service volunteering at graduation ceremonies for almost a decade.
"I feel overwhelmed to be awarded an honorary doctorate by Macquarie University, because it was beyond expectations," said Mr Wagg. "My advice to new graduates is to be committed to your profession, fulfill your obligations and your responsibilities."
Professor Jim Patrick AO received a Doctor of Science (Honoris Causa) for his contributions to the field of hearing. Professor Patrick is a world expert on the Cochlear Implant, being one of the engineers in the team who pioneered the hearing device.
"Working closely with Macquarie staff, especially at the Australian Hearing Hub, has given me a great respect for the University and especially for the work that is being done by Macquarie in the field of hearing," said Professor Patrick.
"It is indeed an honour that my own contributions, helping to develop and deliver life changing treatments to many people with hearing loss have been recognised."
Broadcaster, author and comedian Wendy Harmer received an honorary doctorate in recognition of her groundbreaking work in journalism and comedy.
In a career spanning four decades, Ms Harmer has been a pioneer for women in media and has found success as a journalist, columnist, radio broadcaster, TV host, author, playwright and comic performer. She is the author of some 30 fiction and reference books for children, teens and women, and is currently the co-host of ABC Radio Sydney's weekday breakfast program.
"It is a totally unexpected thrill to be awarded this honorary doctorate by Macquarie University," said Ms Harmer.
"All those hours my late father, the headmaster, spent around the kitchen table correcting my essays with a thick, red pencil and incessantly correcting my grammar have finally paid off! Thanks Dad, and many thanks indeed to Macquarie University."
Macquarie law alumnus Sue Kench, one of Australia's leading lawyers and Global Chief Executive of King & Wood Mallesons, was awarded a Doctor of Letters (Honoris Causa) for her impressive legal career.
Ms Kench said: "Macquarie University has always been a progressive institution which encourages independent thinking and personal growth. In addition to a first class education, my experience at Macquarie helped me to develop learning agility and sense of curiosity which has underpinned my career success to date."
Janet Gale received an honorary doctorate for the significant contribution she and her late husband Dr William (Bill) Lesch Gale have made as benefactors to Macquarie University, particularly the Museum of Ancient Cultures. They also helped establish the Australian Centre for Ancient Numismatic Studies in 1999.
Honorary degrees are awarded in recognition of exceptional achievement or contribution in relation to a particular field or discipline, to the University or society. The recipients of honorary awards represent a balanced group that demonstrates the breadth of the University's areas of interest and expertise.
Filed under: Featured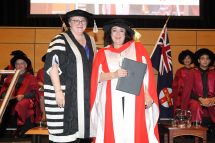 Media contact
02 9850 1055
View by category