A Field of Colour: New exhibition revisits Tony McGillick's artworks
19 July 2018
For the first time in 40 years, Tony McGillick's artworks will be on display in a new solo retrospective: A Field of Colour at Macquarie University Art Gallery.
McGillick was recognised as one of the pioneers of internationalism in Australian art for his New York-inspired flat colour field works, and was a driving force behind the innovative Central Street Gallery in Sydney.
His career was cut short by his sudden death in 1992, just as he decided to leave his advertising job and dedicate himself fully to art.
Launching on 25 July, the exhibition takes an in-depth look at the 30-year evolution of McGillick's works from hard edge geometric abstraction to draped canvas works and rarely-seen typographic compositions.
Paul McGillick, the artist's brother and co-curator of the exhibition, said, "Tony was a painter who never stood still. He explored an idea and then moved on to the next one, as this exhibition so brilliantly reveals."
Senior Curator at the Macquarie University Art Gallery Rhonda Davis said the exhibition aims to cement McGillick's reputation as one of Australia's leading contemporary artists of the 20th century.
"The works show how McGillick was a risk-taker. He never shied away from experimenting using diverse stylistic expressions, which is reflected in A Field of Colour.
"There are also a few surprises for viewers with archival material on display for the first time, which provides a new perspective on his life and work."
McGillick's widow and co-curator of A Field of Colour, Lauren McGillick said the retrospective reveals how McGillick persevered through the challenges of painting, bringing fresh energy and ideas to the Australian art scene.
"Through persistence, Tony painted painting out of its presumed unrecoverable demise."
Exhibition details
A Field of Colour
Tony McGillick – A Retrospective
Open 25 July – 10 September, Monday to Friday 10am-5pm
Macquarie University Art Gallery, 19 Eastern Road, Macquarie University
Free entry
Filed under: Featured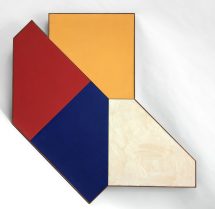 Media contact
02 9850 1055
View by category