Appointment of Inaugural Pro Vice-Chancellor (Indigenous Strategy) at Macquarie University
3 May 2018
This week Dr Leanne Holt was appointed to the inaugural Pro Vice-Chancellor (Indigenous Strategy) at Macquarie University. The appointment coincided with the launch of Macquarie University's Waranara Djurali Workforce Plan 2018 – 2021.
Dr Holt commenced at Macquarie University in 2016 as the Director, Walanga Muru, Indigenous Strategy, the same week Macquarie launched their 10-year Strategy that demonstrated a strong commitment to advance the outcomes of Aboriginal and Torres Strait Islander student, staff, teaching and research outcomes.
Dr Holt is a Worimi woman, with further family connections to Biripai country and has worked in the higher education sector for over 20 years. Prior to her role at Macquarie, she was a Director of The Wollotuka Institute at the University of Newcastle, where she led the Institute to be the first in Australia to receive international accreditation by the World Indigenous Nations Higher Education Consortium (WINHEC). She is currently Deputy Chairperson,  National Aboriginal and Torres Strait Islander Higher Education Consortium (NATSIHEC), State Hub Leader (NSW), National Indigenous Research and Knowledges Network (NIRAKN), member of the Universities Australia DVC Corporate Committee and Department of Education Equity and Innovation Panel as well as holding numerous positions on both professional and community boards and committees locally, nationally and internationally.
Dr Holt recently led a national report on 'Whole of University' approaches to Indigenous higher education as a part of a broader report led by NATSIHEC on Accelerating Indigenous Higher Education for the Commonwealth Department of Education and delivered a plenary address on the outcomes of the report at the Universities Australia conference last year.
Dr Holt's PVC role will work with other executive and senior staff at the University to continue to deliver high quality outcomes of the Indigenous Strategy by empowering a whole of university approach that all members of the University community will contribute to.
Filed under: Featured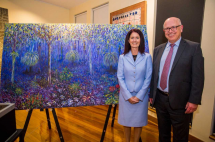 Media contact
02 9850 1055
View by category