Macquarie University Incubator given international design award
24 April 2018
The Macquarie University Incubator has been awarded the internationally-renowned GREEN GOOD DESIGN award in the research and technology category for 2018.
GOOD DESIGN® is the world's most prestigious, recognised, and oldest Design Awards program organised annually by The Chicago Athenaeum Museum of Architecture and Design.
HRH Prince Andrew The Duke of York officially launched the Incubator in September 2017, and is a space designed to nurture, equip and accommodate budding entrepreneurs as they grow a business idea or social venture into a successful start-up.
The Macquarie University Incubator is located on the west side of campus, and the building features innovative design elements including adaptive ventilation and solar panels, to minimise energy usage while maintaining a comfortable work environment regardless of the season.
John Shi-Nash, Director of the Macquarie University Incubator said: "We are delighted that the Incubator has been given this award. It is fitting that a building so innovative in design also houses an ideas space where people can meet, mentor, and network with a cross-section of fellow innovative thinkers."
GREEN GOOD DESIGN's goal is to bestow international recognition to those outstanding individuals, companies, organisations, governments, and institutions – together with their products, services, programs, ideas, and concepts – that have forwarded exceptional thinking and inspired greater progress toward a more healthier and more sustainable universe.
Filed under: Campus news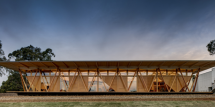 Media contact
02 9850 1055
View by category