Macquarie University's contribution to Hellenic Studies honoured
1 March 2018
In recognition of her contribution to Hellenic Studies, Professor Martina Möllering, Executive Dean of the Faculty of Arts, has been awarded with the Ayios Kosmos o Aitolos Award by the Australian Hellenic Educators' Association.
The award was presented to Professor Möllering on 9 February, the International Greek Language Day, at Parliament House by the Consul-General of Greece, His Excellency Mr Christos Karras. It recognises Professor Möllering's decades of support for Hellenic Studies – the scholarship and teaching of the Ancient and Modern Greek language, culture and history.
"It is an honour to be presented with this award. I have always been passionate about languages and the broad range of benefits that learning a second language has for the individual and for society on the whole. Learning a language other than one's own opens a door into another culture and helps to understand that culture and its history. In the case of Greek, it assists in understanding many of the terms and concepts that still shape our contemporary discourses in fields as diverse as Medicine and Philosophy," said Professor Möllering.
Macquarie University currently teaches six ancient and eleven modern languages. It is a testament to the University's commitment to language studies that new state-of-the-art language labs and an intercultural foyer will form an integral part of the new Arts Precinct to be completed in 2020.
Filed under: Faculty of Arts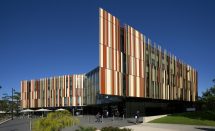 Media contact
02 9850 1055
View by category