Australian book publishers lift their game to be more competitive but some are faring better than others: new study
8 February 2018
New Macquarie University research released today reveals Australian book publishers are lifting their game to be more competitive. The Australian Book Publishers in the Global Industry study, which was financed by the Australian Research Council and Macquarie University, examines publishers' responses to changes in the industry such as competition from offshore retailers Apple and Amazon, other entertainment entities such as Netflix, social media and online games, and the rise of self-publishing.
The study by Professor David Throsby and Dr Jan Zwar, from Macquarie University's Business and Economics faculty, involved a survey of 44 Australian trade publishers ranging from some of the biggest publishing houses to small one- and two-person outfits.
Professor Throsby said publishers are putting in place reforms and improvements including behind-the-scenes initiatives using better systems to improve productivity and more visible changes such as learning how to run contemporary promotional campaigns using social media.
He praised the industry for recognising that reform is essential, but said the opportunities to lift book publishers' performance are not evenly spread across the industry.
"Large publishers with turnover over $10 million per annum, whether independent or multinational, are more likely to have the resources to improve their practices and remain competitive in the globalising industry. Even so, one-third of these report they are financially worse off than five years ago," Professor Throsby said.
The research shows small Australian publishers, with turnover of $100,000 – $10 million per annum, are the worst affected by changes in the industry. Over half (54 percent) of these report that changes in the book industry have been mostly negative, and 43 percent report a deterioration in their financial position compared to five years ago. "Small publishers are aware of the need to be innovative but the costs can be prohibitive," he said.
The study's findings have important implications for Australian culture. Professor Throsby said book publishers are changing their offerings and updating their marketing to compete with other leisure options such as Netflix, Facebook and the Internet. But some types of publishing which are valuable for Australia's culture are not always commercial propositions. "Small publishers are important publishers of Australian literature which often sells in small numbers and yet makes a significant contribution to our cultural life," Professor Throsby said.
The research was the final part of a three-study larger project that looked at Australia's book industry. All reports can be found at http://goto.mq.edu.au/book-industry.
For more information and to arrange interviews please contact:
Karin Krueger
KDK Media
E: karin.krueger@kdkmedia.com.au
Ph: +61 419 991 267
Filed under: Books Featured Research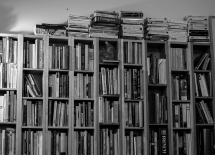 Media contact
02 9850 1055
View by category