Australian Government announces $499,000 to cut traffic congestion in Macquarie Park
17 November 2017
Macquarie University and the City of Ryde Council have been awarded a $499,000 technology grant to reduce heavy traffic congestion and improve connectivity at Macquarie Park.
The joint Smart Transport Planning project has been announced as one of 52 successful projects totalling $28.5million under Round One of the Australian Government's inaugural Smart Cities and Suburbs Program.
Under the project, a 3D data atlas of real-time and historical transport data will be developed, to significantly improve traffic flow.
Assistant Minister Taylor said the district data atlas would bring planners and decision makers together to test scenarios and simulations and then take action to prevent them.
"This is a fantastic use of technology through an open data platform, to find ways to fix the problem of heavy traffic that Ryde residents are battling," Assistant Minister Taylor said.
"The Smart Cities and Suburbs Program wants to support clever ideas that address local issues, and ideas that can be replicated elsewhere, particularly in the outer suburbs of our cities and the regions.
"The Australian Government is also keen to support greater sharing of data to improve the way our cities work."
Assistant Minister Taylor welcomed the project's delivery of an open access data portal.
"This will mean local businesses can monitor pedestrian traffic and better manage their resources to increase revenue. Ryde City Council can improve planning of transport services, and community and government organisations can share valuable, real-time information."
In addition to the Australian Government's $499,000 contribution, Macquarie University and the Council of the City of Ryde will each provide $250,000 in co-funding to see the project become a reality.
Macquarie University Deputy Vice Chancellor Corporate Engagement and Advancement Professor David Wilkinson said the University had a long history of creating innovative solutions to real time problems.
"The Smart Transport in Macquarie Park Project will establish an open and sustainable smart technology program across the Macquarie Park district, pulling together knowledge and expertise from both within the University, Ryde Council and our partners," Professor Wilkinson said.
"I am confident that, thanks to this funding, together we will deliver a smart, effective plan that provides the local community with clear social, environmental and economic benefits."
City of Ryde Mayor, Councillor Jerome Laxale, said:  "Too often we hear buzz words around innovation and collaboration. The continuing partnership between Council and Macquarie University will enable us to share our expertise to build on Macquarie Park's reputation as a 'smart and connected' City.
"The time lost and associated costs to commuters and businesses from road congestion is immense.  Sharing real time data and accurate information about traffic conditions and transport connections can only deliver better solutions."
The $50 million Smart Cities and Suburbs Program is a key element of the Government's Smart Cities Plan. More information on the Program and the Smart Cities Plan is available at https://cities.dpmc.gov.au/.
Round Two of the $50 million Smart Cities and Suburbs Program is expected to open in the first half of 2018.
Filed under: Alumni Business Campus news Events Featured Politics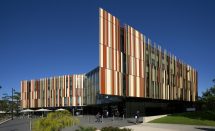 Media contact
02 9850 1055
View by category