Two Macquarie researchers achieve the Web of Science 2017 Highly Cited Researcher list
15 November 2017
Two researchers from Macquarie University, Professor Richard Kefford and Professor Ian Wright, have been named a Web of Science 2017 Highly Cited Researcher, meaning they are among a distinguished group of the most frequently cited researchers in the world.
The Web of Science citation analysis identifies the most frequently cited researchers as determined by the extent to which their papers have supported, influenced, inspired and challenged other researchers around the globe. The findings of this year's analysis, performed by Clarivate Analytics, show there are more than 3,300 Highly Cited Researchers in 21 fields across the sciences and social sciences.
"This achievement highlights the fact that Macquarie University is a centre of research excellence home to the most highly regarded researchers in their fields.
"I congratulate Professor Kefford and Professor Wright on this wonderful achievement and the well-deserved recognition of their world-leading research contributions," said Deputy Vice-Chancellor of Research Professor Sakkie Pretorius.
Professor Kefford, Head of the Department of Clinical Medicine at Macquarie University, Faculty Member of Melanoma Institute Australia, and internationally acclaimed melanoma researcher, said that he was honoured to be on the list within the Clinical Medicine category.
"I was very fortunate to be involved in melanoma research at a time when we were able to develop effective treatments to the disease and really see improved outcomes for patients. The fact that we are now able to treat people with metastatic melanoma, which we weren't able to do five years ago, really shows that our research is able to have a positive impact in advancing research and treatments overall," Professor Kefford commented.
Professor Ian Wright, Deputy-Associate Dean of Research for the Faculty of Science and Engineering at Macquarie University and leading plant ecologist whose research has recently focussed on Australian flora, plant pathogens and the potential impacts of climate change on plants, was thrilled to receive the recognition. Professor Wright was in a select group who were recognised as the highest cited researchers in not one, but two categories, including the Environment & Ecology and the Plant & Animal Science category.
"In my research we tackle big-picture questions in plant ecology, often through the lens of plant "traits" – the morphological, chemical and physiological properties of tissues.
"International collaborations are making ecology into a predictive science at global scale. At Macquarie University we're proud to have led this networking over the past 20 years, and delighted to see that our papers are achieving high citation rates," said Professor Wright.
The researchers will each receive a formal certificate in recognition of their achievement.
For more information please visit the following website: Web of Science 2017 Highly Cited Researchers.
Filed under: Featured Health & medicine Research Science & nature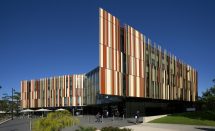 Media contact
02 9850 1055
View by category