Do you have dangerous household dust? 360 Dust Analysis program offers a free test for household dust contaminants
2 November 2017
A new program has been launched by environmental scientists from Macquarie University that will allow households worldwide to test whether their homes are harbouring dangerous contaminants such as lead and chromium – all they need is a sample of dust collected by a vacuum cleaner.
"We have developed a program to determine if indoor air particulates, otherwise known as dust contain harmless compounds," explained Professor Mark Taylor from Macquarie University, who leads the program.
"Due to widespread urbanisation, people now spend more of their time indoors, with some estimates indicating that individuals can spend up to 90 per cent of their time in buildings these days, meaning they are mostly exposed to indoor air particulates as opposed to outdoor ones," Professor Taylor continued.
To date, there is little research on the composition of, and risks associated with, house dust, and even less information on how households can manage and reduce any identified risks.
"The 360 Dust Analysis program will help our research team to address this knowledge gap, by not only allowing us to identify contaminants of concern in household dust, but also to understand spatial patterns and links to other factors such as age of house, occupations, hobbies and distance from industrial pollution sources. For example, some houses may have higher than normal levels of contaminants due to their location or the period they were built. At the moment, we don't even know what normal contaminant levels look like for dust found within Australian homes," said Professor Taylor.
The researchers say that the initial program will analyse household dusts for trace elements such as lead, chromium, copper, arsenic and zinc, but the scope of analysis will increase as more samples are submitted and will include asbestos; flame retardants; allergens; anti-microbial resistance genes; pesticides and dioxins, perfluorinated chemicals
"As a program like this has never been undertaken before, we don't really know what sort of contaminants will prove to be the main offenders outside of the obvious ones, such as lead and chromium which will likely be present in some houses due to the fact that they were previously used extensively in domestic paint," said Professor Taylor.
Participants register via the 360 Dust Analysis website and fill in a two-minute survey about their home environment, before collecting their sample, as per the website's instructions, and posting it to the researchers' lab at Macquarie University. The scientists involved in the program will then analyse the sample and email a report back to the submitter, detailing the contaminants found in the sample.
"We are hoping that through this global citizen science program, we will be able to inform the community about the potentially harmful metals and other contaminants in and around the home, while also extending scientific knowledge about these household contaminants. Participants will receive accessible informative data and helpful suggestions for ways to mitigate any health risk associated with the contaminants found in their home – so everyone benefits," concluded Professor Taylor.
For more information please visit the 360 Dust Analysis website.
Filed under: Science & nature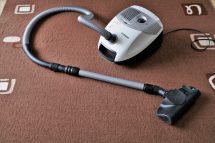 Media contact
02 9850 1055
View by category