Seven Macquarie University students to complete first-ever unit at Sydney School of Entrepreneurship
17 October 2017
A cohort of more than 50 budding entrepreneurs from across New South Wales form the very first group to complete The Navigator unit at Sydney School of Entrepreneurship (SSE) with seven Macquarie University students forming part of this group.
The pilot unit saw students from across the state take part in online and face-to-face study, where students gained a deepened understanding of entrepreneurial mindset.
Mapping the entrepreneurial ecosystem through the Massive Ecosystem Scavenger Hunt (MESH) enabled students to understand the Sydney start up community through experiential learning, an innovative learning approach used at SSE.
Jesse, 22, is part of the first cohort to complete the SSE core unit and is currently completing his final semester of a Bachelor of Commerce, majoring in International Business and Entrepreneurship at Macquarie University.
In addition to his studies, Jesse has also founded his own charity, Bawurra Foundation, which helps improve literacy in Aboriginal and Torres Strait Islander children. Jesse has used his time at The Navigator unit to further explore the entrepreneurial ecosystem, and how to best to grow the Bawurra Foundation.
My experience at SSE has been an amazing experience for me, and a great way to get in the same room as like-minded students and discuss what entrepreneurship is, and what it means to us.
"I'm passionate about delivering economic outcomes for Aboriginal communities, and the course has given me a great opportunity to develop new ideas for my charity the Bawurra Foundation, while also thinking about new projects,"
Deputy Vice-Chancellor (Corporate Engagement and Advancement) at Macquarie University, Professor David Wilkinson says the partnership symbolises both organisations' commitment to entrepreneurship and providing opportunity to students.
"Opportunities like this give our students the skills, connections and exposure they need to maximise their options around employment – including creating their own companies and jobs – enabling them to be future leaders."
SSE CEO Nick Kaye said, "This first cohort has attracted students from all 12 of member higher education institutions and it's been inspirational to see such diverse and talented students from right across the state.
"Our students represent a variety of disciplines including medicine, botany, engineering, design, law and technology to name a few. With a thirst to learn and support one another, they have been a true reflection of SSE and our value in cross-disciplinary learning," said Kaye.
When fully operational at least 1,000 students each year will participate in SSE courses and activities during their degree or TAFE program, with many more taking part in a program of co-curricular activities including workshops, hackathons, educational boot camps and networking events.
Filed under: Education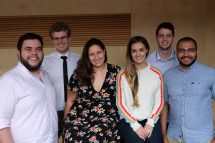 Media contact
02 9850 1055
View by category