Macquarie and Bristol universities partner to offer dual doctoral award
19 September 2017
Macquarie University and Bristol University have signed an agreement to offer a program, of Dual Doctoral Awards, providing cross-global training opportunities for post-graduate researchers.
Macquarie University Vice-Chancellor, Professor Bruce S Dowton, and a delegation of university leaders and senior academics, this week visited Bristol for the signing of the landmark agreement and high-level talks about potential academic collaborations.
Like Macquarie University, Bristol is a research-intensive university. The Bristol-Macquarie Cotutelle program will fully fund up to 25 postgraduates over five years, who will spend two years at each institution, resulting in a PhD from both partners.
The two universities have an established history of successful collaboration: they have co-authored more than 40 research publications since 2014 and currently partner on a thriving undergraduate student exchange program.
Macquarie University Vice-Chancellor, Professor Bruce S Dowton said the PhD partnership symbolised the global connectedness of universities, and education:
"Our partnership with the University of Bristol will enable a new generation of researchers to make an even greater impact on the world, connected not only by collaborative research projects, and student exchange, but by shared values and a vision of education better connecting communities and transforming lives."
University of Bristol Vice-Chancellor, Professor Hugh Brady, said
"It is a great honour to welcome Professor Dowton and colleagues to the University of Bristol today. The signing of this agreement heralds a new chapter in our successful partnership with Macquarie University and opens up a wealth of new, global opportunities for both universities.
"Bristol, like Macquarie, is a global institution and we are united in seeing internationalisation as key to addressing the challenges facing society today. The agreement is a first for Bristol – and a symbol of our commitment to developing similar partnerships with leading institutions, scholars and collaborators across the world."
For Macquarie University the partnership builds on more than 286 joint and cotutelle phD enrolments arising from agreements with 110 universities in more than 30 countries.
Filed under: Education Featured Learning & teaching Research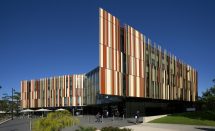 Media contact
02 9850 1055
View by category