Macquarie academics transform student learning
15 September 2017
Three Macquarie University academics have been recognised in the 2017 Citations for Outstanding Contributions to Student Learning, presented by the Australian Awards for University Teaching.
Dr Kira Westaway, Dr Neil Harrison and Corrinne Sullivan (formerly Franklin) have all been honoured for their exceptional contributions to the quality of student learning over a sustained period.
From the Department of Environmental Sciences, Dr Kira Westaway has received one of the awards for the creation of effective earth science learning environments that support different learning styles, and positively impact on the student experience.
"This Citation represents seven years of studying how students learn so I could develop an approach that engages them and delivers the type of student experience that I would have wanted if I were still at university," she said.
"Students these days are looking for more than the delivery of information. They want to be inspired, challenged, motivated and provoked – and yet supported and understood. My approach 'reigniting student curiosity' recognises the pressures on students these days and helps them get excited about science and their degrees.
"The development and application of this approach has taken a great deal of time with new ideas tested every semester, so it's great to get recognition for all the extra effort. However, the real winners will be the students when these ideas are given a platform to be disseminated across the University community."
Dr Neil Harrison from the Department of Educational Studies received his award for leadership and innovation in curricula development, which ensures the inclusion of local Indigenous community knowledge in urban locations in teacher education.
"It is a great honour to receive national recognition of my contributions to student learning in the field of Indigenous education," Neil said.
"Bringing Indigenous and non-Indigenous people together on Country is crucial to building a strong and harmonious future for Australia, and my contributions to student learning are directed to this end. The Citation inspires me to establish yet more opportunities for Aboriginal experts and university students to work together and learn from each other."
And finally, Ms Corrinne Sullivan from the Department of Indigenous Studies was recognised for the development of a transformative and motivating learning space in Indigenous Studies that has inspired students to critically and sensitively reflect on their perspectives and world views.
"Teaching in a field where so many people regularly extend themselves above and beyond the parameters of their job descriptions, it is difficult to consider anything that one does as outstanding," Corrinne said.
"For me to be included in a very talented and professional group of award winners is both the height of humility and the pinnacle of pride. I am deeply honoured to receive this award, and am very thankful for those whom have guided me over the years. This award is very affirming and inspires me to do more."
Deputy Vice Chancellor (Academic) Professor Kevin Jameson said "We're very proud that three of our dedicated educators have received this important national recognition for their outstanding contributions to student learning.
"It's tremendous to see our colleagues rewarded for their efforts towards improving our students' experiences and outcomes. They exemplify Macquarie's commitment to students, the professional development of our academics and the transformative impact of the high calibre teaching."
Filed under: Featured Learning & teaching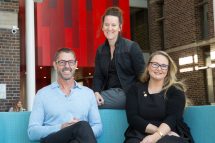 Media contact
02 9850 1055
View by category