Macquarie University takes home a double win at Eureka Awards
31 August 2017
Macquarie University has scored a double with wins in two categories following last night's 2017 Australian Museum Eureka prize dinner.
Associate Professor Rich Mildren took home the prize for Outstanding Science in Safeguarding Australia, for advancements in laser technology and Dr Emilie Ens, alongside the Ngukurr Wi Stadi bla Kantri (We Study the Country) Research Team, was awarded the honour in the category of Innovation in Citizen Science, for a project developing tools for cross-cultural biodiversity assessment, with national applications.
Deputy Vice Chancellor (Research), Professor Sakkie Pretorius, congratulated the winners and finalists on their success.
"I offer my congratulations to Associate Professor Mildren and Dr Ens on their achievements in what was a competitive field among Australia's best researchers. I would also like to congratulate Professor Gilles Guillemin and Dr Edwin Lim on being finalists in these prestigious awards. Regardless of the final outcome, to be announced as finalists is a wonderful recognition for our academics and their world-impacting research."
"We are incredibly proud to have two of our Faculty of Science and Engineering academics take home wins at the Eureka Awards. Their success is a true reflection of the world-changing research that is taking place every day at Macquarie University," said Professor Barbara Messerle, Executive Dean, Faculty of Science and Engineering.
Associate Professor Rich Mildren – High-power diamond lasers invented at Macquarie University
High-power lasers have many potential applications: from medical imaging to manufacturing, shooting down drones or space junk, or powering deep space probes. But current laser technologies overheat at high power.
Associate Professor Rich Mildren and his team have developed a technique to make diamond lasers that, in theory, have extraordinary power range. Five years ago, their lasers were just a few watts in power. Now they've reached 400 watts, close to the limit for comparable conventional lasers.
"The award is a terrific recognition, not just for the diamond laser team but also as a tribute to the strong tradition of the high power laser research at Macquarie and MQ Photonics over decades. It is also very timely – one of our goals is to reach out to government and industry partners for translating the research to end users. We hope the additional exposure will be a great help for promoting these activities," said Associate Professor Rich Mildren.
Dr Emilie Ens – Indigenous and Western science caring for country in Arnhem Land
A unique collaboration between scientists and Aboriginal people in remote south-eastern Arnhem Land is building knowledge about country and how local people can better manage it.
In the last nine years the Ngukurr Wi Stadi bla Kantri (We Study the Country) Research Team has discovered species new to science, found new populations of threatened species, preserved culturally-significant wetlands, and documented the community's plants and animals in eight local languages.
Led by ecologist Dr Emilie Ens from Macquarie University and Ngandi Elder Cherry Wulumirr Daniels, this citizen science research is also working with the Yugul Mangi Rangers to better manage the new threats facing their country—like feral animals, weeds, climate change and altered fire regimes.
"This work is based on 10 years of collaboration with Ngukurr community in remote Northern Territory. I am so proud our work has been recognised as Innovation in Citizen Science and to have shared the Awards evening with three inspiring young leaders from Ngukurr who are now studying at Macquarie and our funding partners The Nature Conservancy and the Atlas of Living Australia. We couldn't have achieved this without them and the support of Ngukurr Elders, community, school and of course the Yugul Mangi Rangers where it all began, especially Cherry Wulumirr Daniels and Julie Roy," said Dr Emilie Ens.
Macquarie University would also like to extend its congratulations to the winner of the 2017 Macquarie University Eureka Prize for Outstanding Early Career Researcher, Associate Professor Madhu Bhaskaran from RMIT University.
The Eureka Prizes are presented by the Australian Museum and reward excellence in research and innovation, science communication and journalism, leadership and school science. Prize winners were announced at an awards dinner at Hall.
Filed under: Events Science & nature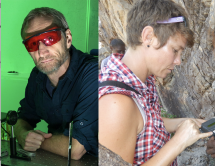 Media contact
02 9850 1055
View by category