Macquarie's PACE program named winner of AFR Higher Education Employability Award
30 August 2017
Macquarie's Professional and Community Engagement Program (PACE) was last night recognised for its achievements in enhancing student employment outcomes and improving the performance of students already in employment, at the Australian Financial Review Higher Education Awards.
"Not only does PACE increase employment opportunities for our students, it also teaches them valuable life skills in leadership, resilience, and other skills needed to be successful in the workplace," says Professor Kevin Jameson, Deputy Vice Chancellor (Academic). "We are very proud of this achievement."
"Through Macquarie's unique PACE program students apply classroom learning in practice and develop valuable career and life skills. Working with one of our 2,500 industry and community partners, they accumulate a portfolio of transferable skills, knowledge, and experiences that equip them for the changing world of work and a life of ethical and engaged citizenship. It is wonderful to see the efforts of our students, partners and University staff recognized with this prestigious award," says Lindie Clark, Academic and Program Director of (PACE) Professional and Community Engagement.
All Macquarie Bachelor degrees include at least one PACE unit, which gives students a chance to explore key economic, social and ethical challenges by seeing first-hand how contemporary organisations address them.
PACE allows students to develop new knowledge and skills, explore future career opportunities, become job ready, and develop cross-cultural competencies and much more.
Filed under: Education Events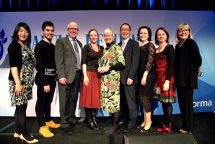 Media contact
02 9850 1055
View by category