Macquarie grows our tall poppies well: Evolutionary biologist Dr Jemma Geoghegan awarded
21 August 2017
Dr Jemma Geoghegan from the Department of Biological Sciences has been recognised for her work in evolutionary biology with a prestigious Young Tall Poppy Science Award, announced today as part of the Sydney Science Festival.
Since joining Macquarie in February this year, Dr Geoghegan has been furthering her research in evolutionary dynamics and genetics of key viral infections affecting both human and animal health.
Dr Geoghegan's research aims to reveal the drivers of virus diversity, ecology and evolution, including the virus-host interactions that lead to the infection of new host species and result in disease emergence.
The Tall Poppy awards recognise outstanding young researchers and are run by the Australian Institute of Policy and Science (AIPS) who combine world-class research with a passionate commitment to communicating science. The awards are held on a state by state basis to celebrate researchers across science, engineering and mathematics.
"This award is unique in that it acknowledges both high quality research and the communication of research findings to the broader community. The latter is something that I am very passionate about. By being a recipient of this award, I hope to advance my skills in science communication in order to share the knowledge of my discoveries with the wider community," said Dr Geoghegan.
"The potential for viruses to spillover to novel host species by cross-species transmission is becoming increasingly apparent. My research focuses on the evolutionary processes that might allow novel pathogens to adapt to new hosts; and the potential barriers to host adaptation," said Dr Geoghegan.
Prior to joining Macquarie, Dr Geoghegan obtained her PhD from the University of Otago in New Zealand before undertaking two postdoctoral fellowships: first at NYU Medical School and later at the University of Sydney with Professor Eddie Holmes.
As part of the Young Tall Poppy campaign, award winners will spend a year sharing their knowledge with school students, teachers and the broader community through workshops, seminars and public lectures.
Young Tall Poppies are nominated by their peers and are early career researchers who have under 10 years of post-doctoral experience. Selection is based on research achievement and leadership potential. Over 500 young scientists have been honoured nationally since the awards were established in 2000.
The AIPS is an independent, not-for-profit organisation that works to promote excellence in research and innovation, increase public engagement in science and inform and influence policymaking.
Filed under: Featured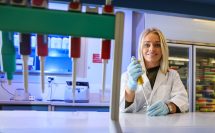 Media contact
02 9850 1055
View by category