Macquarie is holding an array of community events for the Sydney Science Festival and National Science Week 2017
8 August 2017
Macquarie University will be holding an array of events that are sure to entice and educate science fans city-wide for National Science Week 2017 and the Sydney Science Festival, held formally from 12-20 August with other related events falling outside these dates. In addition to many school outreach events and other offerings, the University is hosting, in collaboration with a number of other organisations, a selection of community events being held here on campus and across the city of Sydney in celebration of all things science.
To kick the community events off, on Friday 11 August from 4:30pm onwards, Macquarie University will be holding two interactive workshops, Future Humans, for ages five and up, and Human Evolution – Past. Present. Future. for all ages. Dr Kira Westaway from Macquarie University says that these events are a great opportunity for young people to learn about humans – a complex and yet very successful species.
"At the Future Humans workshop we will be encouraging kids to come and explore how the past has created the humans we are today and what challenges in the future will shape us into 'future humans'. Then, at the following workshop we will challenge all ages to come on a journey with us through our past evolution, our present-day challenges and the potential evolution of the future through a series of interactive talks. Prepare to be entertained by the wonders of the human race – there will even be some surprises along the way," explains Dr Westaway.
This year, and for the first time, Macquarie University will also have a presence at the newly formed Northern Sydney Science Hub's day of Science and Technology, being held at Chatswood Library on Saturday 12 August from 10am-3pm. The event is suitable for the whole family with plenty of science and technology exhibitions to explore. The following day, Sunday 13 August, from 2:30pm-4pm, the Brilliant Brains: How Kids Learn Language event is being held at the Powerhouse Museum, and while the event is already booked out online, organisers say that it is still accessible to those who purchase a Museum ticket and plan to visit on the day. Visitors will be able to learn how language scientists from Macquarie University's Child Language Lab solve the puzzles of language learning.
"The 'Brilliant Brains' event aims to raise the public awareness on recent findings about language acquisition, especially surrounding some recent controversies around topics such as baby talk and bilingualism. More importantly, we would like to bring the lab to the wild by showing the public what types of research language scientists do," explains one of the event organisers and Macquarie University researcher, Carmen Kung.
The following weekend, on Saturday the 19 August from 10am-1:30pm the Wild Science Race Community Event, an initiative of Macquarie University and Taronga Zoo, will encourage participants and see wildlife through the eyes of a scientist.
"Connecting the community to scientists is an effective way to show society what science does and how research is translated into practice. With the 'Wild Science Race' we actually connect the community (and lots of high school students) to the scientists of the future by having our undergraduate advanced science biology students develop and deliver the race," explains Associate Professor Michelle Power, researcher at Macquarie University and one of the organisers of the Wild Science Race.
"The race communicates the scientific research behind conservation practice, and empowers people by allowing them to understand the importance of scientific evidence to global challenges – such knowledge enables people to form their own opinions of global issues and also aligns to the festivals theme of 'Future Earth'."
Finally, Macquarie University's National Indigenous Science Education Program (NISEP), the City of Sydney, Redfern Community Centre and Inspiring Australia will be co-hosting the Indigenous Science Experience Family Fun Day at Redfern Community Centre on Sunday 20 August from 10am-3pm. The event is being held to foster and develop the confidence and leadership potential of Indigenous youth. Using science as an engagement tool, the Family Fun Day will demonstrate the value of traditional and contemporary Indigenous knowledge in science and technology and the relevance of science to our everyday lives.
"This is a day which aims to showcase the wonderful science and cultural knowledge of Aboriginal people across Australia, providing an opportunity for everyone to participate in everyday real science and dispelling the idea that science is something only done by scientists," explains Associate Professor Joanne Jamie, Director of NISEP at Macquarie University.
"Highlights will include yarns with Aboriginal Elders on bush foods and medicines, making Aboriginal tools/jewellery, and taking part in hands-on science activities led by Indigenous youth."
Those interested in attending any of the community events with bookings required are urged to book soon, as the events are filling up fast.
Please visit this page to learn more about the community events organised by Macquarie University for Sydney Science Festival 2017, or visit the National Science Week website and the Sydney Science Festival website to learn more about events being held across Sydney.
Filed under: Events Featured Research Science & nature Technology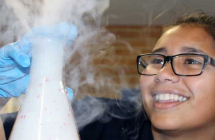 Media contact
02 9850 1055
View by category