Super lasers, cross-cultural biodiversity, and multiple sclerosis biomarkers – Macquarie researchers announced as 2017 Eureka finalists
28 July 2017
Three research projects led by four Macquarie University academics have today been announced as finalists in the 2017 Australian Museum Eureka prizes.
Established in 1990 and presented annually, the Eureka prizes reward excellence in the fields of research and innovation, leadership, science engagement and school science.
The Macquarie finalists are:
Associate Professor Rich Mildren, Department of Physics and Astronomy
Eureka Prize for Outstanding Science in Safeguarding Australia, for advancements in laser technology
Associate Professor Mildren's team has developed a super laser using a new approach using diamond technology to radically extend laser power and wavelength. Applications of the laser could transform the defence of Australia against modern threats from drones, boat swarms and low-cost missiles. Other applications for the laser may be found in quantum science and biomedicine, and even in cleaning up space junk.
Dr Emilie Ens, Department of Environmental Sciences
Eureka Prize for Innovation in Citizen Science, for a project developing tools for cross-cultural biodiversity assessment, with national applications
The project facilitates the exchange of information between Arnhem Land Aboriginal communities and Western science to observe, identify and record flora and fauna, with the data being analysed and communicated using cutting-edge digital techniques. The project will see the discovery of new species, new populations of threatened species, and the maintaining of traditional languages.
Professor Gilles Guillemin and Dr Edwin Lim, Department of Biomedical Sciences
Eureka Prize for Innovation in Medical Research, for the discovery of an MS Biomarker
A team of researchers led by Dr Edwin Lim and Professor Gilles Guillemin have discovered the first blood biomarker –  a chemical identifier in the blood – enabling a simple blood test to rapidly and accurately determine which type of multiple sclerosis (MS) a patient has with 85-90 per cent accuracy. MS is a debilitating disorder of the central nervous system that affects more than 23 000 Australians, and 2.3 million people worldwide.
Deputy Vice Chancellor (Research), Professor Sakkie Pretorius, wishes all Macquarie finalists the best of luck for the announcement of the winners on Wednesday 30 August at the 2017 Eureka Prizes Award Dinner.
"Regardless of the prize winners, to be announced as finalists is wonderful recognition for our academics and their research. Each of the finalists have dedicated years to their expertise, and their progress has far-reaching benefits for many Australians and the world."
Filed under: Alumni Business Campus news Education Featured Health & medicine Learning & teaching Other Research Science & nature Technology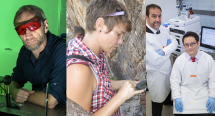 Media contact
02 9850 1055
View by category