Macquarie's superstar to smash science gender stereotypes
3 July 2017
Dr Ronika Power from the Department of Ancient History in the Faculty of Arts has been named today as one of the first Superstars of STEM – ready to smash stereotypes and forge a new generation of role models for young women and girls.
More than 300 applicants across Australia vied for a spot to be a Superstar, with the successful candidates to receive training and development to use social media, TV, radio and public speaking opportunities to carve out a more diverse face for science, technology, engineering and mathematics (STEM).
Announced today by the Minister for Industry, Innovation and Science, Senator the Hon Arthur Sinodinos AO, the women will learn how to speak about their science and inspire others to consider a career in STEM.
"I am thrilled and deeply honoured to have been selected as one of the 30 inaugural STEM Superstars for Science & Technology Australia. I see this as a powerful opportunity to celebrate and promote the work of the countless women who are achieving extraordinary things in STEM, and to encourage and inspire the next generation of young women and girls to study and work across STEM fields," said Dr Power.
"I'm also particularly delighted to be showing Australia the great diversity in which STEM can be applied in teaching, research and employment. As a bioarchaeologist, it is my goal to try and integrate the arts and sciences wherever possible, and demonstrate the real magic that can happen when we work together," Dr Power finished.
Science & Technology Australia President-Elect, Professor Emma Johnston, said studies in the USA and other countries similar to Australia had shown female STEM professionals were significantly under-represented.
"Superstars of STEM is the first program of its kind and will prove vital for the future of STEM in Australia," said Professor Johnston.
"Often when you ask someone to picture or draw a scientist, they will immediately think of an old man with white hair and a lab coat.
"We want Australian girls to realise that there are some amazing, capable and impressive women working as scientists and technologists too, and that they work in and out of the lab in places you might not expect," she said.
The Superstars of STEM program will also include a mentoring component, designed to link participants with inspiring women in their sector who can provide insights into leadership in their field. Participants will also be required to share their stories at local high schools to ensure they are connecting with young Australian women with an interest in STEM.
Of the final 30, eight are from Victoria, eight from New South Wales, five from South Australia, five from Queensland, two from Tasmania and two from the ACT.
Science & Technology Australia (STA) is the nation's peak body in science and technology, promoting the sector's work with government, industry and the general public.
Filed under: Featured Uncategorized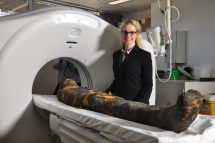 Media contact
02 9850 1039
View by category