Numbers in action – Macquarie's next gen science communicator
8 June 2017
Applied mathematician Dr Sophie Calabretto from the Department of Mathematics has been named today as one of the 'Top 5 Under 40' in science communication.
The Top 5 Under 40 program, led by the University of NSW and ABC Radio National, is an initiative to discover 'Australia's next generation of science communicators and give them a voice'.
They will work with ABC journalists and broadcasters to spread the word about science.
"I am so grateful to have been given the opportunity to be involved in such an important initiative. The number of women studying higher mathematics in this country is declining rapidly, and this is the mathematics that will prepare people for the jobs of the future. I hope that seeing a woman pursuing (and enjoying) a career in applied mathematics can help break the stigma that exists for young women in STEM," said Dr Calabretto.
The program is in its third year and is for outstanding early-career researchers under 40 who are working in Australian universities and research organisations across science, technology, engineering, mathematics and medical research.
"We need more female role models who can communicate not just a passion for mathematics but also that mathematics can be applied in solving many of the challenges facing the world. As the language of science and technology, mathematics provides the way in which students of today will define the career of the future. Dr Calabretto speaks that language," said Professor Jim Denier, head of the Department of Mathematics.
"We are delighted that she has been awarded this important award and we look forward to seeing her take a lead role in communicating the importance of mathematics to a new generation of young women."
Filed under: Uncategorized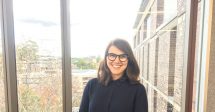 Media contact
02 9850 1039
View by category