Macquarie University achieves success in recent Citizen Science and ARC Linkage Project grant rounds
2 June 2017
Macquarie University researchers have received around $1.43 million in funding in the recent rounds of the Citizen Science Grants and the Linkage Projects scheme by the Australian Government.
Professor Mark Taylor and Professor Vladimir Strezov from the Department of Environmental Sciences, Dr Heather Handley from the Department of Earth and Planetary Sciences and Professor Michael Gillings from the Department of Biological Sciences received over $490,000 of Citizen Science Grant funding for their project: Citizen insights to the composition and risks of household dust. The project will assess household dusts metals and minerals and a selected subset for a range of contaminants including allergens, anti-microbial resistance markers, asbestos, phthalates, perfluorinated chemical and pesticides.
"The DustSafe project will investigate the environmental health risks posed by fine dust partcles indoors, engaging citizens by asking them to submit vacuum dust samples for chemical and biological analysis," explained Professor Taylor.
Also receiving funding as part of the Citizen Science Grants, was Associate Professor Michelle Power and Professor Michael Gillings from the Department of Biological Sciences. They received just over $400,000 for their project 'Scoop a poop: citizens tackle antibiotic resistance in the wild', which is being done in collaboration with Taronga Zoo.
"Participants will be educated on the global health issue of antibiotic resistance by collecting possum scats from their backyards, using a specially designed kit, and learning about how antibiotic resistance affects out native wildlife," explained Associate Professor Power. "Students from participating schools will also have the opportunity to learn more about DNA testing methods used to track antibiotic resistance genes," she added.
Furthermore, Dr Emilie Ens from the Department of Environmental Sciences received over $250,000 of Citizen Science Grant funding for her project titled 'Cross-cultural biodiversity assessment in remote Aboriginal Australia'. Macquarie University researchers, she explains, will work with Aboriginal citizens of Arnhem Land and the Atlas of Living Australia to develop new tools for cross-cultural biodiversity assessment that can be applied nationally.
"Aboriginal citizens will trap, observe, identify and record flora and fauna using Western and Aboriginal science with the data being recorded, analysed and communicated using cutting-edge digital techniques," said Dr Ens.
Finally, Associate Professor Barbara Griffin from the Department of Psychology and her co-investigators from Psychology, Cognitive Science and Computer Science received $280,000 in Linkage Projects scheme funding for a project designed to improve the timely identification of swimmers at risk of drowning. The research, which is being done in collaboration with YMCA NSW, aims to provide evidence-based solutions for selecting, training and maintaining the performance of lifeguards in order to create the safest possible environment at community swimming pools.
"Lifeguards are vital for maintaining public safety at aquatic venues, however despite their presence, fatal and non-fatal drownings occur every year with little known about the factors that affect vigilance, scanning and sustained attention in such a complex, dynamic environment. We will be drawing on a range of theoretical, empirical, and methodological approaches from the disciplines of organisational psychology, human factors, cognitive science and computer science to investigate solutions for this devastating problem," said Associate Professor Griffin.
For more information on the recent round of the Citizen Science Grants, please visit the Department of Industry, Innovation and Science website, and to learn more about the Linkage Grant scheme please visit the Australian Research Council website.
Filed under: Featured Research Science & nature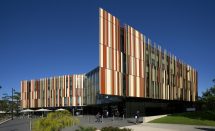 Media contact
02 9850 1055
View by category