Macquarie University receives $780,000 in funding for Australian Research Council Linkage Projects
5 May 2017
• Macquarie University has received a total of $780,000 in the recent round of ARC Linkage Project scheme announcements
• Professor Vladimir Strezov and his research group received $450,000 for their project which is aiming to develop a way to assess dioxins in the iron ore extraction process
• Dr Kate Fullagar and her research team received $330,000 for their project investigating indigenous and settler experiences in Australasia and North America
Two research teams at Macquarie University have collectively received $780,000 of Australian Research Council (ARC) Linkage Project funding, receiving over 20 per cent of the $3.7 million on offer as part of the recent ARC Linkage Projects scheme. The grants were announced by Minister for Education and Training, Senator the Honorable Simon Birmingham.
Professor Vladimir Strezov and his research group received $450,000 for their project which is aiming to develop a way to assess how dioxins – compounds that include chlorine atoms which are harmful to our health – form during the process of extracting iron from other minerals at high temperatures.
The project will investigate dioxin emissions and develop ways to control conditions that lead to dioxin formation during the iron extraction process. The researchers hope to aid the Australian iron ore industry in addressing environmental requirements of their international trade partners, in order to sustain iron ore exports.
Dr Kate Fullagar and her research team received $330,000 of ARC Linkage Project funding for their project which will investigate indigenous and settler experiences in Australasia and North America.
Dr Fullagar and her team will be working in partnership with the National Portrait Gallery to discover new connections or distinctions in the history of indigenous Australians and North Americans in order to develop new methods of examining the shared or different histories of complex indigenous-settler relations. The research will culminate in a major public exhibition with the Smithsonian focusing on biography and life representation.
The ARC Linkage Projects scheme funded 10 projects in total, with five other universities from Australia receiving funding during this round of announcements.
For an in depth analysis of the recent ARC Linkage Projects scheme announcements please see the corresponding funding announcements page on the Australian Research Council website.
Filed under: Business Campus news Faculty of Arts Featured Science & nature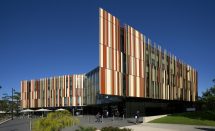 Media contact
02 9850 1055
View by category