Autumn graduation season commences with honorary doctorate awarded
18 April 2017
His Excellency General The Honourable David Hurley AC DSC (Ret'd), Governor of New South Wales awarded honorary doctorate
Macquarie University's autumn graduation series commenced today with more than 16,000 guests expected to converge on campus in the coming weeks to celebrate the achievements of more than 4100 graduates attending ceremonies to receive their awards.
Of the degrees conferred, more than 130 will go to Doctoral (PhD) candidates.
This season's graduates will also be joined by Australian and international esteemed community leaders who will receive honorary doctorates acknowledging their exceptional contributions to society in their fields.
His Excellency General The Honourable David Hurley AC DSC (Ret'd), Governor of New South Wales, received an honorary doctorate in a ceremony today.
His Excellency is the 38th Governor of New South Wales, commencing his five year tenure in October 2014.
"This is a proud day for all graduating students, their families and special guests and I am honoured to join them to receive this degree, Doctor of Letters honoris causa, in recognition of Macquarie University's fine tradition of academic and research excellence and outstanding commitment to public life and the community," said His Excellency.
Prior to his appointment as Governor, His Excellency served for 42 years in the Australian Army, concluding his service as the Chief of the Defence Force. His Excellency was appointed a Companion within the Order of Australia in 2010 for eminent service to the Australian Defence Force, and had been awarded the Distinguished Service Cross for his leadership during Operation SOLACE in Somalia in 1993.
Two further honorary doctorates will be presented in ceremonies this week.
Honorary awards are identified by the inclusion of 'Hon' in the post-nominals. The recipients of honorary awards represent a balanced group that demonstrates the breadth of the University's areas of interest and expertise.
Filed under: Featured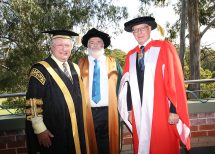 Media contact
02 9850 1055
View by category