Financial Times Ranks MGSM's MBA Number One in Australia
30 January 2017
MGSM's MBA ranked 49th in the world, moving up seven spots from 2016
This year's ranking marks the third consecutive year that MGSM has taken out Australia's top spot
The Macquarie Graduate School of Management (MGSM) has today taken out the title of Australia's best business school as well placing in the world's top 50 business schools following the release of the 2017 Financial Times' Global MBA Ranking.
Based on the results of the Financial Times' global MBA ranking which is considered a global benchmark of business school excellence MGSM placed 49th globally and first in Australia, for the third consecutive year. This year's rankings reviewed business schools from around the world, measuring criteria submitted by both the School and alumni such as average salary after graduation, value for money, diversity of staff and the MBA's international reach.
Professor Stephen Brammer, Executive Dean Faculty Business and Economics said: "It is an honour to once again be recognised by the Financial Times as Australia's leading business school in addition to placing in the top 50 globally. MGSM has always put our students first and we work hard to deliver the very best experience possible at every touchpoint, every day. This ranking highlights the hard work and dedication that goes into making MGSM the best business school in Australia."
This is the third consecutive year that MGSM has retained the number one ranking in Australia and the first year that the school has reached the world's top 50, moving up seven spots since the 2016 ranking, highlighting the school's commitment to excellence.
Professor Norma Harrison, Acting Dean of MGSM stated: "MGSM faculty and professional staff are passionate about their student and alumni groups, and the content and delivery of their MBA program.  Particular attention is paid to student services, alumni and business connectivity on a regular basis.  The best in teaching and learning methods are applied in the design and delivery of our courses.  Our students are constantly benchmarking with other Schools and ultimately they know where to go for the very best in graduate business courses."
MGSM's outstanding result reflects the School's ongoing commitment to providing students with the very best opportunities, which sets them up to achieve at the highest levels in their career.
In 2016 MGSM saw a 15 percent increase in the number of students studying at the School with an equal representation of domestic and international students. MGSM also reached a milestone 100th enrolment within its jointly funded Women in MBAs program which sets out to overcome the gender imbalance in MBA programs.
Filed under: Featured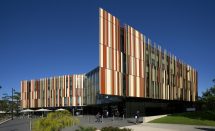 Media contact
02 9850 1055
View by category