Macquarie alumnus named Australian of the Year
27 January 2017
Macquarie University alumnus, biomedical scientist Professor Alan Mackay-Sim, has been named 2017's Australian of the Year in a ceremony earlier this week.
Professor Mackay-Sim began his foray into the world of science with an undergraduate degree at Macquarie in 1974, and completed his PhD in behavioural biology in 1980, in what was then known as the Division of Environmental and Life Sciences.
Professor Mackay-Sim is renowned for his groundbreaking work in stem cell research, and is currently an Emeritus Professor at Griffith University.
It was during his time at Macquarie that he became fascinated with the science of the nose, after he realised that, "in Australia nobody else has been particularly interested in smell, I mean in the physiology of the sense of smell."
The Prime Minister, The Hon Malcolm Turnbull MP, presented Professor Mackay-Sim with the Australian of the Year trophy at a ceremony in the Great Hall of Parliament House in Canberra.
The Australian of the Year Awards profile leading citizens who are role models for all Australians and inspire us through their achievements. The Awards honour an exceptional group of highly-respected Australians who ignite discussion and change on issues of national importance.
Filed under: Alumni Events Featured Other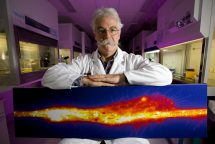 Media contact
02 9850 1055
View by category