Macquarie team one of 10 sci-tech innovations selected for CSIRO accelerator
9 December 2016
LuciGem, a team from Macquarie University is one of only 10 research teams selected for CSIRO's ON Accelerate3, announced today.
LuciGem is pioneering new medical technology that uses nano-sized particles of ruby and diamond to 'light-up' human systems to 'see the unseen' and improve patient diagnosis and treatment.
"For too long, great science and technology has been trapped on the lab bench, not because it lacked potential, but because something was missing in the system – ON fills that gap. ON empowers Australia's researchers with the entrepreneurial skills to understand the customer first, and how to deliver maximum national benefit," said CSIRO Chief Executive Dr Larry Marshall.
The 10 winning teams were selected following a challenging and competitive two-day Selection Bootcamp experience held last week at UTS in Sydney.
"The On Prime pre-accelerator program gave us the confidence to go out and test our ideas by talking to potential customers. However, upon entering the bootcamp, we were taken out of our comfort zone when the mentors challenged us to think bigger and explore other potential markets. We are now excited to enter the three month ONAccelerate program so we can work towards identifying a more impactful way to deliver our materials to more users around the world," said Dr Louise Brown from the Department of Chemistry and Biomolecular Sciences.
"The CSIRO are putting a lot of resources in to an important challenge with the ONAccelerate program. We are privileged to be a part of it, and we've learned a huge amount about what's required to take an idea from the lab-bench to the market. Any researcher would benefit from having a go if the opportunity comes up," said Associate Professor James Rabeau.
ON Accelerate3 will commence on the 16 January 2017 and will run for 12 weeks in hubs across the country, where teams will develop business planning, commercialisation and pitching skills. The program culminates in 'ON Demo Night' where teams will pitch their innovations to an audience of industry experts, investors and potential partners for further funding and support for commercialisation.
About ON
ON is the national sci-tech accelerator for publicly funded research teams. CSIRO launched the ON accelerator in July 2015 as part of its Strategy 2020, designed to boost Australia's innovation performance by creating connections between disciplines, sectors, science and business. http://oninnovation.com.au/
Filed under: Featured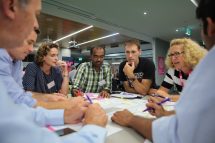 Media contact
02 9850 1055
View by category