Federal Minister for Industry, Innovation and Science Greg Hunt MP visits Macquarie University to learn about the Macquarie Park Innovation District
23 November 2016
Federal Minister for Industry, Innovation and Science Greg Hunt MP visited the Macquarie University campus to learn more about the Macquarie Park Innovation District (MPID)
Visit enabled discussions around industry collaboration and the unique role that MPID can play in connecting business, academia, students and the broader community
The Federal Minister for Industry, Innovation and Science Greg Hunt MP and Federal Member for Bennelong John Alexander OAM MP visited Macquarie University recently to learn more about the Macquarie Park Innovation District (MPID) and its industry collaboration model.
In a focussed discussion, the parliamentary members spoke to the Vice-Chancellor and other members of the University's executive team and academic staff, as well as MPID members, about the importance of industry relationships, recognising the unique role that MPID can play in connecting business, academia, students and the broader community.
"This was a valuable and productive visit for the University, symbolising and bringing to life the importance of partnership between business, universities and government. Minister Hunt and the Member for Bennelong were both very engaged in the vision for MPID and the shared benefit industry collaboration brings," said Deputy Vice-Chancellor (Corporate Engagement and Advancement) Professor David Wilkinson.
The anechoic chamber, located within Macquarie University's Australian Hearing Hub, a member of the MIPD that is spearheading a collaborative approach across hearing and healthcare organisations and the University, was one of the showcased highlights of the visit. The parliamentary members partook in an auditory demonstration of the facilities, and were also interested in the innovative use of telepractice technologies by the Sydney Cochlear Implant Centre and the services offered at The Shepherd Centre.
Ending with a roundtable discussion with members of the MIPD, the visit led to some insightful and interesting conversations with the officials, opening up new opportunities for the University and other members of the MPID to work with government moving forward.
"I look forward to working closely with the Government in the future to make sure our innovative ideas come to fruition," concluded Professor Wilkinson.
Filed under: Alumni Business Campus news Politics Research Technology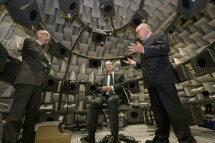 Media contact
02 9850 1055
View by category