Macquarie's Dr Annie Lau honoured with a Women in Research Citation Award
27 October 2016
Dr Annie Lau from the Australian Institute of Health Innovation at Macquarie University has been honoured with a Women in Research Citation Award for her research in health informatics.
The inaugural awards, jointly presented in a ceremony by Clarivate Analytics and The Australian National University (ANU), honour the outstanding achievements of early to mid-career women researchers in Australia across all fields of research in science, social sciences and the humanities.
Dr Lau was one of only 12 researchers selected for these awards across Australia.
"I am drawn to my research because of its potential to improve health outcomes for large numbers of people. I believe that by directly empowering individuals, helping them to understand their healthcare, and enabling them to take an active role, they will enjoy better health outcomes.
"When better-engaged healthcare consumers enjoy better health outcomes, we will see reduced strain on our currently overstretched healthcare system, allowing valuable resources to be reallocated to those with the greatest need," said Dr Lau.
Deputy Vice-Chancellor (Research) Professor Sakkie Pretorius congratulated Dr Lau on her award.
"Macquarie is demonstrating in so many ways the diverse nature of our research and its real-world impact, and I am pleased by the recognition she has received for her contribution. I congratulate Dr Lau on her significant achievements in health informatics research."
Jeroen Prinsen, vice president and head of the Australia and New Zealand regions for Clarivate Analytics, congratulated the winners and said the awards would help encourage gender equity in research.
"For many years we've been recognising Australia's research excellence and contribution to the global community through a series of Citation Awards. This year we wanted to encourage greater gender equity in research and bring to the forefront outstanding contributions from women in research. We are thus very pleased to be partnering with the Australian National University in presenting the 2016 Women in Research Citation Awards," said Mr Prinsen.
Filed under: Featured Health & medicine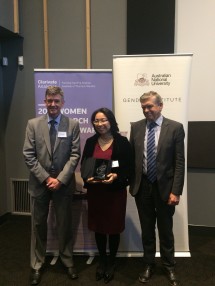 Media contact
02 9850 1039
View by category