MGSM's women in MBA program hits 100 sponsorship target
16 September 2016
Macquarie University's Graduate School of Management (MGSM) has reached an impressive goal for its Women in MBA Program (WiMBA) reaching the 100 sponsorship target set in support of management education for Australian women.
"Less than two years ago, MGSM set out to make a real change in MBA gender equality by offering up 100 sponsorships in partnership with corporates to help women undertake an MBA," said The Hon Kristina Keneally, Director of Gender Inclusion and Adjunct Professor at MGSM. "We are proud to announce we have just reached that target."
"To date we have raised nearly $4 million in corporate sponsorship matched by the same amount in fee relief from MGSM. That's $8m in total. This has to be the biggest contribution to addressing the gender imbalance in MBAs launched by any business school in the world."
Current sponsorship recipient, Ashleigh Wright of Defence Housing Australia, said the WiMBA program had allowed her to progress in her career, become involved in not-for-profit organisations and access mentoring opportunities – none of which would have been possible without it.
"It would have been ten years before I'd been able to afford to do an MBA – if then," she said. "Often, investing in ourselves takes a back seat to the mortgage and everything else. Through WiMBA I've gained invaluable professional skills but just as importantly, have had formal mentoring both through MGSM and my employer."
Ms Wright said the chance to give other women a hand up was another important opportunity WiMBA had given her. "I work with the Future Direction Network now, a role I came by via my MBA," she said. "I want the kind of opportunity I've had to be the norm – not a one off. That's the goal."
Ms Keneally said that an MBA was a powerful tool for helping women step up into senior leadership roles. "It's imperative business schools do their part to make sure potential candidates don't miss out," she commented. "That's why we set ourselves this huge target to become one of the first business schools in the top 50 globally to achieve gender balance in our domestic student intake."
By meeting this original target the percentage of female participants in the MGSM MBA domestic program has increased from 29% in 2014 to 35% in 2016.
Launched in November 2014, the WiMBA program works with corporate and government organisations to identify their top female talent and support them through an MBA. This includes not just financial support but mentorship and career planning.
The initiative has secured 50 corporate partners to date – including Canon, Dow Chemical, GE International, Hollard Insurance, Johnson & Johnson, Nanosonics, Qantas, the Royal Australian Navy, Star Entertainment Group, Volvo and Woolworths – with 100 sponsorships in place.
Ms Keneally acknowledged the important role the corporate partners play in creating greater diversity in leadership and credited them for making a difference in the lives of the women enrolled in the WiMBA program.
"We now have 58 women enrolled through WiMBA and nearly all those I've spoken with said they would not have applied for an MBA but for the program. This is pleasing feedback as it confirms we are achieving our aim of drawing in women who were previously missing out on an MBA," said Ms Keneally.
Now the School has reached its original target it plans to conduct a full review of the initiative to ensure the program is meeting the needs of both the corporates it works alongside and the female students it sponsors.
Ms Keneally said: "Through this program we are determined to make a real difference to the numbers of women in leadership. In order to do that, we are prepared to take a moment to review how we are tracking as we continue on the journey of supporting these women through to graduation and beyond."
Filed under: Alumni Business Featured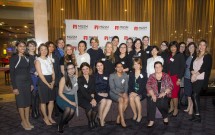 Media contact
02 9850 1055
View by category