Improving diagnostics and equipping indigenous elders and youth: researchers honoured as Eureka finalists
29 July 2016
Macquarie University researchers are finalists in two categories in the 2016 Australian Museum Eureka Awards, announced today.
Now in its 27th year, the Australian Museum Eureka Prizes recognise excellence in research and innovation, leadership, science communication and school science across a broad spectrum – from environmental innovative technologies, to science journalism, mentoring and for the first time, citizen science.
Macquarie's finalists are:
Professor Ewa Goldys from the Department of Physics and Astronomy and the ARC Centre for Nanoscale Biophotonics
ANSTO Eureka Prize for Innovative Use of Technology
The hyperspectral imaging technology, developed by Professor Ewa Goldys and Dr Martin Gosnell, enables the colour of cells and tissues to be used as a non-invasive medical diagnostic tool. This powerful approach is easily accessible and yields translational outcomes for patients and industry.
Professor Goldys said: "With our pioneering hyperspectral imaging technique we are able to unveil the biomolecular composition of cells and their nanoscale contents."
"This lets us distinguish between healthy and diseased cells in areas as diverse as embryology, neurodegeneration, cancer and diabetes. What is key is the great potential of this technology to impact positively on lives – supporting clinicians in making improved diagnosis and health decisions for patients."
Ngukurr Wi stadi bla Kantri Research Team, Macquarie University and Yugul Mangi Rangers
Department of Industry, Innovation and Science Eureka Prize for Innovation in Citizen Science
Through cross-cultural citizen science research, the Ngukurr Wi stadi bla Kantri (We study the Country) Research Team is equipping Aboriginal elders and youth with the knowledge and tools to better understand and manage South East Arnhem Land environments. Through the project, the team is re-discovering a large and remote area unknown to Western science and working towards maintaining endangered Aboriginal biocultural knowledge.
Project lead, Dr Emilie Ens said: "This project aims to re-discover a biologically and culturally diverse part of remote South East Arnhem Land through on-ground collaborative research with Aboriginal elders and youth. We are very excited to have all our hard work acknowledged in this way and hope to inspire other researchers to embark on more collaborative science with Indigenous Australians."
The winners of the prizes will be announced in the presence of more than 600 science, government, industry and media leaders at the Eureka Prizes Award Dinner at Sydney Town Hall on Wednesday 31 August 2016.
Filed under: Featured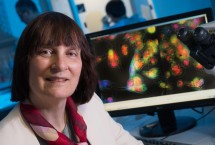 Media contact
02 9850 1055
View by category