New major in Chemical and Biomolecular Sciences from 2017
6 June 2016
In an Australian first, Macquarie University's Department of Chemistry and Biomolecular Sciences (CBMS) is offering a BSc major in Chemical and Biomolecular Sciences from 2017.
The new major recognises that a large part of current and projected future application of the molecular sciences is at the chemistry-biology interface, and will therefore equip graduates with cross-disciplinary skills and perspectives to enhance their employability in a competitive sector.
Chemical and Biomolecular Sciences encompasses the analysis, transformation and manipulation of molecules and the molecular interpretation of the world around us. The Chemical and Biomolecular Sciences major is based on understanding molecules, how they are formed and interact and how molecules influence the structure and function of biological and cellular systems.
The major emphasises chemistry at the interface of biology, and will provide graduates of this major with the theoretical knowledge and practical skills to contribute to a sustainable environment, understanding of health and disease, and advancing new molecular technologies. Study areas will include analytical chemistry, biochemistry, medicinal chemistry, microbiology, molecular biology, physical chemistry, organic and inorganic chemistry and genomics. The major is ideal for students with broad interests in the chemical, biochemical and medical sciences.
This major will offer a path into many chemistry and bio- industries including those engaged in chemical analysis, medical research, pharmaceuticals, diagnostics and biotechnology and provides an excellent foundation for postgraduate studies. Program entry assumes no prior secondary level education in chemistry or biology.
Filed under: Uncategorized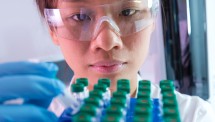 Media contact
+ 61 2 9850 4331
View by category