Autumn graduation season commences: Honorary Doctorates for alumna Margaret Pomeranz AM and more
11 April 2016
Macquarie University's April 2016 graduation series commences on Tuesday 12 April, with more than 10 700 guests expected on campus to celebrate the achievements of more than 4 100 graduates attending their ceremonies to receive their awards.
Throughout the ceremonies, the University will award more than 4 097 degrees, diplomas and certificates. Of the degrees conferred, 114 will go to Doctoral (e.g. PhD) candidates.
A further 81 exceptional students will receive a Vice-Chancellor's Commendation for meritorious work. To achieve this award, students must have maintained a Distinction or High Distinction result for each and every unit of study undertaken in their degree program, or in the case of research students, have submitted theses for examination of an exceptionally high standard.
This season's graduates will also be joined by a number of esteemed alumni and community members who will receive honorary doctorates acknowledging their exceptional achievement or contribution to a particular field or discipline, and/or to the University or society:
Wed 13 April 10:30am: Margaret Pomeranz AM (Doctor of Letters), and David Stratton AM (Doctor of Letters), recognising their contributions to the film industry, and best known for their roles as presenters of SBS' The Movie Show, later ABC's At The Movies.
Ms Pomeranz is a Macquarie alumna, having attended the University to study German and social psychology. "I am so honoured by being awarded this degree by Macquarie University. This is an institution that changed my life, gave me belief in my abilities and truly contributed to the career that I've subsequently enjoyed. It is a glorious return to my alma mater for which I am very grateful."
Mr Stratton is likewise delighted to accept his award, and says it is both unexpected and gratifying, given his own education was cut short before he had completed high school, and he has always regretted not being able to study at tertiary level.
Wed 13 April 2:30pm: Ray Jackson (posthumous Doctor of Letters), recognising his contributions to indigenous social justice. A Wiradjuri Elder and one of Australia's stolen generation, Mr Jackson co-founded the Indigenous Social Justice Association and was its President up until the time of his passing in April 2015. Macquarie Academic Professor Joseph Pugliese will accept Mr Jackson's honorary doctorate on Mr Jackson's behalf, and will present the ceremony's Occasional Address.
Thursday 14 April 10:30am: Emeritus Professor David Weisbrot AM (Doctor of Letters), recognising his contributions to law reform in relation to health and medical research. Professor Weisbrot was a previously a Professor of Law and Governance at Macquarie University.
"I am deeply honoured to be awarded an honorary doctorate by Macquarie University, because my experience as a law professor and a law reformer confirmed this University's very special commitment to the welfare and intellectual development of its students, as well as to innovative teaching and scholarship by its academic staff – and all of this without losing its historical focus on social justice."
Thursday 14 April 2:30pm: Emeritus Professor John Melville-Jones (Doctor of Letters), recognising his contributions in ancient history, specialising in an understanding of the Mediterranean world from antiquity to medieval times.
"I am very pleased to have been associated with the most active ancient history department in the southern hemisphere."
Friday 15 April 10:30am: Dr Ian Pollard (Doctor of Business), recognising an esteemed business career that has seen Dr Pollard direct around 30 companies across a variety of sectors in 30 years. He has been Chairman of listed companies Just Group, Corporate Express and Billabong International and of life reinsurer RGA Australia. Dr Pollard graduated from Macquarie in 1973 with a BA in Mathematics, Statistics and Actuarial Studies, and was Macquarie's first Rhodes Scholar.
"I feel proud to be awarded an honorary doctorate by Macquarie University because of the standing of the University and my personal and family associations with Macquarie which have many dimensions and go back to the University's earliest days. Macquarie is the source for me of many fond memories."
Honorary awards are identified by the inclusion of 'Hon' in the post-nominals. The recipients of honorary awards represent a balanced group that demonstrates the breadth of the University's areas of interest and expertise.
All ceremonies will also be live streamed online, facilitating the welcome inclusion of family, friends and supporters who are unable to attend the event on site, but would like to support their loved one.
Filed under: Alumni Campus news Events Featured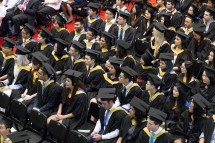 Media contact
02 9850 1055
View by category