John Howard visits Macquarie University
19 February 2016
Former Prime Minister The Hon. John Howard OM, AC visited Macquarie University recently to launch the Department of Security Studies and Criminology, accompanied by the Vice-Chancellor Professor S Bruce Dowton and Head of Department Professor Ben Schreer.
Mr Howard spoke about the tough decisions made during his tenure as Prime Minister and how the international security landscape has changed since his time in power.
The Department of Security Studies and Criminology replaces the previous department name, the Centre of Policing, Intelligence and Counter Terrorism, which launched in 2005, and reflects the Department's expansion in research and teaching offerings in applied security studies, most notably in cyber security and criminology.
The Department looks at the big questions facing us, such as: how should Australia position itself in the Asia-Pacific; how do we effectively counter violent extremism in Australia; and, how we can tackle the challenges posed by the 'darknet' and transnational organised crime.
"Over the years, the Department's role and scope changed significantly. We transitioned from an independent centre providing specialist training to the law enforcement community to a fully-fledged academic department within the Faculty of Arts," said Professor Schreer.
John Howard was awarded an Honorary Doctorate for his achievements at Macquarie University in 2012.
Filed under: Alumni Campus news Events Faculty of Arts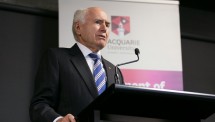 Media contact
02 9850 1055
View by category