Looking back on an outstanding 2015
23 December 2015
The end of the 2015 is fast approaching. As Faculty of Arts reflects back over the academic year, it has certainly been one of great achievements. In 2015 the Faculty celebrated accomplishments of some of the leading teaching and professional staff, and ground-breaking academic research and student successes. It's been a busy year!
Here are some of the highlights from 2015.
Executive dean of the faculty of arts appointed
In February 2015, the Faculty of Arts welcomed its new Executive Dean – Professor Martina Möllering.
"[Professor Möllering's] many leadership roles at the University throughout her career, and her international research profile make her an excellent appointment to lead the Faculty of Arts.", said Vice-Chancellor Professor S Bruce Dowton in the announcement of the appointment. Read the story
Big History makes history
Launch of Big History MOOC, a showcase not only for Big History but also for trans-disciplinary learning and teaching expertise across Macquarie University. The course, comprising six modules and led by Big History founder Professor David Christian, is accessible on demand to people from all over the world. Read the story
Faculty of Arts Learning and Teaching awards 2015
Academic staff from Sociology, International Studies, English and Media, Music, Communication and Cultural Studies were awarded the 2015 Faculty of Arts Learning and Teaching Awards. The awards recognised and celebrated the contributions of academic staff to excellence in teaching, enhancing student learning, and enriching student experience. Read the story
Faculty of Arts research areas rated world class
The Faculty of Arts' research areas have been ranked at "world standard" (3) and "above world standard" (4) in the latest Excellence in Research for Australia (ERA) ratings, exemplifying the achievements of our research leaders and leading researchers in delivering world-leading research with world-changing impact. Read the story
Creative Writing graduate tops New York Times bestseller list
Master of Creative Writing alumna, Liane Moriarty, is today the Australian author of six internationally best-selling novels, and one of the few authors in the world to ever have three books on the New York Times best-seller list at the same time. Read the story
Arts student empowers global communities
David Everett and Annabelle Chauncy, Faculty of Arts graduates were awarded the Medal of the Order of Australia (OAM) for their outstanding achievements and service. Read the story
See the full list of our 2015 achievements from our history timeline
Faculty of Arts wishes you a safe and happy holidays. See you in 2016!
Photo gallery: 2015 Highlights
Filed under: Faculty of Arts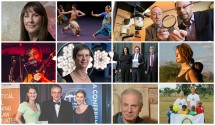 Media contact
Interview contact
Faculty of Arts Marketing
View by category