Answering the big questions to solve the world's problems
9 December 2015
More than 30 leading academics and researchers from around the world have converged at Macquarie University this week to take part in the Big History Anthropocene Conference.
In a conversation that will define and dictate the future, international and Australian experts are tackling the challenges of the 'Anthropocene', where the human race has had such a profound impact on the climate and environment of the Earth that some have proposed we have entered a new geological era.
Big History founder Professor David Christian said: "Are we close to a tipping point on the issue of climate change? The Big History Anthropocene conference brings together scholars from many different disciplines to discuss some of the major global challenges of the next few decades – challenges that are also being tackled at the Paris conference on climate change."
The conference has also seen the launch of 10 transdisciplinary scholarships for doctoral students, which will be linked to the Big History Institute and will explore a theme arising from the Conference.
Big History Institute Executive Director Andrew McKenna said: "The Anthropocene Conference is an excellent opportunity to explore the big questions that need to be answered, and map a path forward to pursue those research questions through transdisciplinary PhDs."
Filed under: Campus news Events Featured Humanities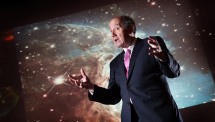 Media contact
02 9850 1055
View by category