Excellence in research improving lives
4 December 2015
ERA ratings show all assessed Macquarie University research deemed world class and above at a 2-digit code level…
Today's Excellence in Research for Australia (ERA) ratings show Macquarie University's innovative approach to an integration of medical research, healthcare and higher education has delivered outstanding results.
In addition to rising from a 1 to 5 in neurosciences, Macquarie University is rated 5 for clinical sciences, oncology and carcinogenesis, all within the Faculty of Medicine & Health Sciences. As the only Australian university that owns and operates a hospital, Macquarie is making the most of its unique ability to influence health and wellbeing through its patient-centric, research-led, approach.
Stellar performances were also highlighted across Physical Sciences, Environmental Sciences, Agricultural and Veterinary Sciences as well as in Engineering and the Humanities, debunking the rhetoric from earlier in the year that excellence in research is the sole domain of the GO8.
Highlights of Macquarie's 2015 ERA results:
All assessed research rated at world standard and above at the 2-digit level
96% of research rated at world standard and above at the 4-digit level
Macquarie has maintained consistent excellent performance in Physical Sciences and Environmental Sciences, achieving the highest ERA ratings for these areas in 2010, 2012 and 2015
Two 2-digit FoRs increased by 2 points to achieve a rating of 4: Mathematical Sciences, and Medical & Health Sciences
A 58% increase in level 4 and 5 ratings (combined) from the 2012 results
Deputy Vice-Chancellor (Research) Professor Sakkie Pretorius said the ERA ratings are a vital indicator of Australia's research excellence and performance on the whole and also show that taking a collaborative and innovative approach, with a focus on how research improves lives, pays off.
"First class research in Australia isn't limited to the Group of Eight. Many universities like Macquarie have the talented minds, the infrastructure, and the dedication to pursue advancements in so many important fields of research.
"As these ratings would suggest, Macquarie has the ability, and therefore the responsibility, to undertake world class research for the betterment of humankind, our societies, economies, and the environment.
"Macquarie's varied research strengths – from environmental sciences, agriculture and astronomy, to quantum physics, clinical sciences and philosophy – will do much to address some of the most pressing global issues including food security, climate change, chronic diseases and mental health," Professor Pretorius said.
Vice-Chancellor, Professor S Bruce Dowton congratulated Macquarie University researchers and support staff, saying "this success is just reward for the determination to produce the very best research. Their contributions to this success have been outstanding.
"The impact of this work changes the way people live their lives and the kind of world we leave to future generations."
Macquarie 4-digit 5s

Macquarie 2-digit 5s

0101    Pure Mathematics
0201    Astronomical & Space                Sciences
0205    Optical Physics
0206    Quantum Physics
0401    Atmospheric Sciences
0406    Physical Geography                     & Environmental                      Geoscience
0502    Environmental Science              & Management
0602    Ecology
0603    Evolutionary Biology
0604    Genetics
0607    Plant Biology
1103    Clinical Sciences
1109    Neurosciences
1112    Oncology &                                Carcinogenesis

 

02    Physical Sciences
05    Environmental Sciences
07    Agricultural & Veterinary             Sciences

 
Excellence in Research for Australia (ERA) is a federal government initiative that evaluates the quality of research being conducted by Australia's higher education institutions. Research quality is evaluated in groups defined by 2-digit and 4-digit Field of Research (FoR) codes. The final report of the University's research quality rates the performance in each FoR code against a world standard, using a scale of 1 to 5.
The full list of results can be accessed here
Filed under: Featured Research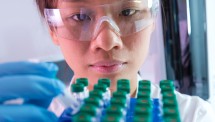 Media contact
02 9850 1055
View by category