Students to experience how robots can tackle real-world problems using their own designs
30 November 2015
This weekend more than 600 school students will get up close and personal with robots at two of the largest robotics tournaments in Australia, hosted at Macquarie University.
Giving Australia's future leaders a glimpse into how robots can provide solutions for real-world problems, FIRST® Australia (For Inspiration and Recognition of Science and Technology), runs a suite of robotics programs for school students and is hosting its annual national FIRST LEGO League (FLL) and FIRST Tech Challenge (FTC) tournaments on campus, sponsored by Google, Ford Australia and LEGO Education.
FIRST Australia Director, Luan Heimlich, says that the competitions are more than a fun weekend activity for the kids – it could be setting them up for a lifetime of innovation and discovery in science.
"Our primary objective is to inspire young people's interest and participation in science and technology now, and in the future. We aim to bring the excitement of a sporting or entertainment event to science and technology," she said.
"The students who compete this weekend will be given the opportunity to network with other teams, with our event sponsors, and with our FIRST mentors and alumni who have already moved through the program and gone on to undertake degrees and internships in the STEM fields."
The FLL is a competition for students aged 9-16 years, and sees them design, build, and program robots out of LEGO blocks in order to address a modern problem in science and engineering. This year the challenges are themed around sustainability.
The FTC is designed for high school students aged 14-18, whose robots are constructed from more advanced materials and must compete in an alliance format against other teams. Competitors, coaches, and mentors are required to develop strategy and build robots based on sound engineering principles – this year to suit a 'rescue' theme.
FIRST sponsors, Ford Australia, will also host their Ford Fuels Innovation activation on campus, featuring remote-controlled cars built out of LEGO™.
The tour continues Ford's support of STEM teams around the country who develop crash avoidance and mitigation systems for the robots, similar to Ford's all new suite of radar and sensor-based driver assist technologies, like the latest models from Ford's line-up on display at Ford Fuels Innovation: The Ford Mustang, new Ford Everest and the Ford Kuga.
Event details:
Where: 
Macquarie University, North Ryde
The team pits (where teams can work on their robots) – E7B
Competing space – Macquarie Theatre
Ford Fuel Innovation Activation – Outside the Macquarie Theatre
When: 
FLL: Saturday 5 December, 8am-5pm
FTC: Saturday 5 December, 10am – 8pm & Sunday 6 December, 8am-5pm
About FIRST®
 Accomplished inventor Dean Kamen founded FIRST® (For Inspiration and Recognition of Science and Technology) in 1989 to inspire an appreciation of science and technology in young people. Based in Manchester, N.H., FIRST® designs accessible, innovative programs to build self-confidence, knowledge, and life skills while motivating young people to pursue opportunities in science, technology, and engineering.
FIRST® Australia was set up in 2010 at Macquarie University's North Ryde campus, Sydney. Since then it has grown to engage hundreds of teams from around Australia across its suite of robotics events. In 2014 FIRST® Australia hosted the inaugural Australian FRC® Regional Competition, the largest student robotics competition in the Asia Pacific.
Annually, the organisation hosts the FIRST® Robotics Competition (FRC® ) for students in Grades 9-12; FIRST® Tech Challenge (FTC® ) for Grades 7-12; FIRST® LEGO® League (FLL® ) for Grades 4-8; Junior FIRST® LEGO® League (Jr.FLL®) for Grades K-3, and RoboCamps during school holidays. To learn more about FIRST, visit firstaustralia.org
Filed under: Campus news Events Featured Science & nature Technology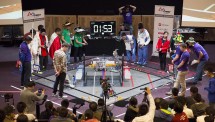 Media contact
02 9850 1055
View by category