Research spotlight: Professor Richie Howitt
30 November 2015
Richie Howitt is a professor and researcher in human geography in the Faculty of Art's Department of Geography and Planning.
In addition to his teaching and research at Macquarie, his career as a geographer includes work in the fields of human rights, Indigenous rights, environmental justice, sustainability and social theory. He has undertaken major social impact studies for various Aboriginal groups, and contributed to native title and mining negotiations in several areas. He is also the Director of the Macquarie-Ryde Futures Project, an innovative project where the University is involved in building stronger research and community engagement with the City of Ryde – Macquarie's local government council.
Professor Howitt's research focuses on Indigenous rights and the interface between Indigenous communities, natural resource development, governments and corporations at the scales of the project, the community, the landscape and the nation. His current research project is an Australian Research Council Discovery Project in rural NSW. The research involves weaving together narratives of change over a fifty year time frame (1965-2015), drawing on official statistics, policy archives and community interviews. It aims to provide a long-term perspective on the difficulties of framing policy that supports sustainable well-being in Aboriginal communities and to empower local Aboriginal people to tell their own stories about the impacts of policy successes and failures.
To gain more insight into this research, we asked Professor Howitt a few questions.
What is your current research project about?
Fifty years ago a colleague of mine, Emeritus Professor Janice Monk, did field surveys in a number of NSW towns to understand the social geographies of Aboriginal households. She surveyed one in three Aboriginal households in four larger towns that were all similar demographically, but quite different economically – Coffs Harbour, Cowra, Deniliquin and Griffith. Nearly ten years ago I found out that all her original data was still sitting in a filing cabinet in her home garage in Tucson, Arizona. That started an idea of using that unique archive as a benchmark for looking at changing social and economic circumstances in these towns over nearly a quarter of Australia's post-invasion history and through the massive policy changes that followed the referendum in 1967 that gave the Commonwealth responsibility for policy in Indigenous affairs and included Indigenous Australians in official census counts.
We've worked with Aboriginal groups in Deniliquin and Griffith in particular to make sense of both the complex policy and statistical narratives over that long time frame and the communities' own experiences.
Why did you decide to conduct this research?
A lot of research in Indigenous issues focuses on remote areas – including a lot of my own work. But the situation of Aboriginal people in urban and rural areas of what Charles Rowley referred to as 'settled Australia' reflects a long and tragic history of policy failure. Janice Monk's work contributed directly to a landmark project initiated by the Social Science Research Council of Australia under the leadership of Charles Rowley. The rediscovery of her data gave us a unique opportunity to work with families who had been involved in that early work, and to engage deeply with five decades of social change – and policy failure. We wanted to return the archival materials to the families who had worked with Janice, and to work with them to understand and respond to the question of whether they were better off in the mid-1960s or now.
At what stage is the research at?
I am in the final stages of the project and have just submitted a summary chapter to a book being led out of the Smithsonian Institute in the USA. We also ran a community workshop in Griffith last month to explore implications and responses to the research. We are in year five of our three year funding and as a result have been given an extension by the Australian Research Council owing to the complexities of negotiating research arrangements in the communities that have participated, and the ethical complexities of returning archival research to the families and the Australian Institute of Aboriginal and Torres Strait Islander Studies in Canberra.
Along the way we've completed a number of conference presentations, journal contributions, workshops and feedback sessions. David Crew, a PhD student in the Department of Geography and Planning and General Manager of Yarkuwa Indigenous Knowledge Centre in Deniliquin is completing his PhD thesis as part of the project, and we are doing our final round of interviews in Griffith early next year.
Are you applying any pioneering approaches/innovative methodologies in your research?
One of the most exciting parts of this project has been working with local organisations to train community interviewers to interview people about their experiences over five decades. We worked closely with Deniliquin TAFE and Western Riverina Community College in Griffith to deliver a training program that has seen nearly fifty community interviews done. This offers an amazing snapshot of experience in these two towns that people will come back to many times as local archival resources. What I've really enjoyed is hearing young researchers' enthusiasm for community engagement when they've come back from interviewing Elders and relatives and realised that the Elders they give such respect to now were just everyday people trying to live their lives under difficult and complex circumstances in different times – and that they will be the future Elders to reflect on what matters in these times.
What benefits does your research provide to the community?
The research set out to assist people in the participating towns to better understand and respond to their own changing circumstances and I think we are doing that. We have provided an accessible and incredibly interesting and valuable archive from Janice Monk's 1965 research which other researchers will be able to use in the future. We've also developed in local people the capability of contributing to and even leading their own enquiries into how to improve Aboriginal futures in their towns.
More broadly, I think we offer some important insights into the nature of policy failure (and the grounds for policy success) in building sustainable well-being in rural communities.
Filed under: Faculty of Arts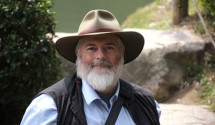 Media contact
Interview contact
Faculty of Arts
View by category