Macquarie Law School students gain international experience on campus
23 November 2015
Imagine as a student having the opportunity to work with an international organisation without even leaving the campus! This is exactly what Macquarie Law School undergraduate students have the opportunity to do through the Macquarie International PACE (Professional And Community Engagement) unit LAWS452. The unit also offers opportunities for interns to travel overseas to participate in internships and work within a range of organisations.
During their internship, students have the opportunity to engage in needs-based projects, assist with legal research, legal policy drafting, legal reform reviews, prepare case briefings, undertake international and local comparative law analysis, communication and education about legal issues, or community advice, as well as provide general paralegal assistance.
One of the international partners is Bahay Tuluyan, a children's rights organisation located in the Philippines, which works with fifth year Law students on legal research projects.
"Bahay Tuluyan is a relatively small organisation. We have limited resource so we don't have legal staff and it is very difficult for us to gain legal resources within the Philippines," explained Bahay Tuluyan Deputy Director Catherine Scerri.
Via online Skype meetings and email correspondence, the PACE students provided much-needed support for the organisation and were able to achieve numerous goals, that, given the restricted resources of Bahay Tuluyan, would have been otherwise unattainable.
"The PACE students bring to our organisation skills in research, writing, analysis and critique that really allows us to move and do things that we would not otherwise be able to do," said Scerri.
By structuring the Skype meetings strategically throughout the development of the project, the Law students gained practical law experience working for an international partner and were able to meet deadlines and milestones, all while navigating their final year of university and their graduate positions.
"The PACE unit was really great to get some real legal research experience with a real organisation and to apply what understanding of the subject area we had gained from other law subjects," said Law student Gabriella Agnese.
Deb Ronan, a lecturer from the Macquarie Law School who oversees the Law international PACE unit adds, "It gives the students the opportunity to not only practise their legal skills, but it helps them to practise their interdisciplinary skills, their interpersonal skills and to develop as a global and ethical citizen; and for that reason it sets Macquarie University Law School apart."
Since the Bahay Tuluyan project, there have been other international projects experienced by our law students including working with HAQ in Delhi (Centre for Child Rights) doing a comparative analysis of child sexual abuse laws in India, Australia, NZ and the UK; and with AIJI (Asian International Justice Initiative) in Cambodia compiling a report on victim participation in war trials in various international courts and tribunals. Both of these projects will contribute to the publication of reports and submissions to governments.
Watch this video to find out more about this international internship experience:
Filed under: Faculty of Arts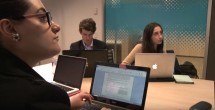 Media contact
02 9850 1055
Interview contact
Faculty of Arts Marketing
View by category