Professor Jeffrey Braithwaite receives Research Australia's 2015 Health Services Research Award
19 November 2015
Professor Jeffrey Braithwaite from the Australian Institute of Health Innovation at Macquarie University has been presented with the Health Services Research Award at the 2015 Research Australia Awards.
Professor Braithwaite received his award at a gala awards dinner held in Melbourne last night, Wednesday 18 November 2015.
The 2015 Research Australia Awards celebrate leaders who have made significant contributions to health and medical research in Australia.
The Health Services Research Award recognises leadership and outstanding contributions to health services research.
Said Professor Braithwaite of his award: "I am humbled and honoured that Research Australia has made this award. I would like to thank senior staff at Macquarie University, who place their faith in me and my work, particularly Professor Patrick McNeil, the Executive Dean of Medicine, Professor Sakkie Pretorius, Deputy Vice-Chancellor (Research), and the Vice-Chancellor, Professor S Bruce Dowton."
"Awards such as this are not really about the efforts of one person. Modern research is about collaborations. I am proud of my team of dedicated researchers at the Centre for Healthcare Resilience and Implementation Science who contribute fantastic research to improve health systems here and around the world, and the creative force of researchers in our larger research grouping – the powerhouse Australian Institute of Health Innovation."
The Research Australia Awards are presented across the categories of discovery, advocacy, philanthropy and lifetime achievement, and this is only the second year that health services research has been recognised.
Research Australia is an alliance of 160 members and supporters advocating for health and medical research in Australia. Research Australia's mission is to make health and medical research a higher priority for the nation.
Filed under: Events Health & medicine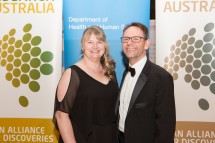 Media contact
02 9850 1055
View by category