Four distinguished researchers accepted into the ARC College of Experts
16 November 2015
Four researchers from Macquarie University have been accepted into the Australian Research Council (ARC) College of Experts, ensuring Macquarie University will have a continuing role in shaping research innovation in Australia.
Acceptance into the College means that these researchers will have a role in assessing grant applications, make funding recommendations, and provide strategic advice to the ARC in order to achieve a thorough and fair research funding process in Australia.
"The acceptance of these four researchers onto this distinguished panel demonstrates the high calibre of academics at Macquarie University," said Professor Sakkie Pretorius, Deputy Vice-Chancellor (Research).
"These experts will complement the College of Experts committee by bringing a rich and established knowledge of their respective fields, a knowledge that has been cultured by the longstanding research excellence of Macquarie's academic community."
Successful applicant Professor Denise Meyerson, from the Macquarie Law School, is hoping that she will be able to do great things in her new role.
"It is a great honour to be appointed to the ARC College of Experts and I am very much looking forward to making a contribution to advancing Australian research," she said.
Professor Mariella Herberstein, from the Department of Biological Sciences, was excited with the announcement and says she aims to keep Australian research at the forefront of innovation.
"Australia is world renowned for the quality and impact of its research. Through my role on the college of experts I hope to strongly support Australian research," she maintained.
Candidates for the ARC College of Experts are selected not only on their experience, but also on their cross-disciplinary and multi-disciplinary expertise, with successful applicant Professor Jennie Hudson, from the Centre for Emotional Health and the Department of Psychology, pleased that her acceptance will allow her to work with others from varying fields.
"I am excited about the opportunity to work with researchers from other disciplines, learn about Australia's top research projects and have input into funding decisions," she explained.
All four nominees agree that their acceptance into the college spells good things for the Macquarie research community, with Professor Julie Fitness, from the Department of Psychology, hoping that her successful nomination will help her to help others within the Macquarie research community.
"The better we understand the current research funding context, the better equipped we are to improve the quality of our own applications and to enhance our chances of successful funding outcomes in the future," said Professor Fitness.
Filed under: Uncategorized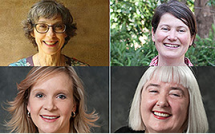 Media contact
+ 61 2 9850 4331
View by category