'History in Dioramas: David Lever' Exhibition opens 9 October
2 October 2015
The works of David Lever will be featured in a new exhibition, History in Dioramas: David Lever, at the Macquarie University Library Exhibition Space from 9-29 October.
The dioramas presented are based on Lever's paintings highlighting childhood memories of the inner suburbs of Sydney and the social history of street life between 1900 and 1960. Featured buildings including shops, hotels and houses date from almost 120 years ago, with their sense of history captured within the dioramas. Lever has constructed the works from materials found in historical buildings throughout Sydney, including the Courthouse Hotel in Newtown.
Lever has chosen a range of materials in the construction of these dioramas. The materials have been salvaged from the actual building sites that were once featured in his oil paintings. The materials stand as a metaphor for the lives once led and the conversations held within those spaces. In a process of peeling back Lever has uncovered the hidden layers of the timber's painted surfaces revealing almost one hundred and twenty years of the timbers provenance.
"I have deliberately left layers of paint showing to allow those pieces of timber to reveal their history in colour," said David Lever.
Lever recreates the history of Sydney as a place and space, teeming with life, events and stories as they unfold within these unique three dimensional constructions. The exhibition takes us on a nostalgic journey fostered by personal memories and public histories, and in that sense, the past is never lost but reinvigorated by Lever's commitment to his practice.
Exhibition details
Opening dates: Friday 9 October – Thursday 29 October 2015
Opening hours: Monday-Friday 8am-10pm and Saturday-Sunday 10am-6pm
Exhibition location: Macquarie University Library Exhibition Space
C3C Building on Macquarie Drive (centre of campus)
Filed under: Events Library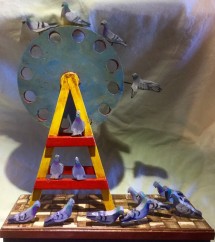 Media contact
02 9850 1055
View by category