Macquarie University academics recognised for outstanding contributions to student learning
24 September 2015
Macquarie University academics Dr Marina Harvey, Dr Trudy Ambler and Dr Jayde Cahir are recipients of 2015 Citations for Outstanding Contributions to Student Learning, as part of the Australian Awards for University Teaching.
The awards, announced last week, are administered by the Office for Learning and Teaching, and recognises the country's best educators.
The Citation was awarded for research into the development of a new model of mentoring, the Spectrum Approach to Mentoring (SAM), which provides a framework of scholarly, flexible and innovative mentoring that enhances the professional learning of higher education teachers and the student experience.
Deputy Vice-Chancellor (Academic) at Macquarie University, Professor John Simons said he was thrilled with the Citations.
"This is an important recognition of pioneering research that has not only contributed to the professional development of our academics but which has also had a positive impact on students' learning."
Commenting on behalf of her colleagues, Dr Marina Harvey said the Citation is one more indicator of the quality of the learning and teaching research that is undertaken at Macquarie.
"We have always believed in the efficacy of the Spectrum Approach to Mentoring for learning and teaching in higher education, and it is a great affirmation to have the sector also recognise the role of our approach to mentoring."
"Professionally, working collaboratively on this team has meant that each member can contribute their strengths to the project to achieve successful outcomes. This shared approach to leading projects draws on the best each person has to offer, and it works."
Learn more about the Spectrum Approach to Mentoring.
Filed under: Campus news Events Learning & teaching Research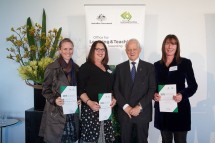 Media contact
02 9850 1055
View by category